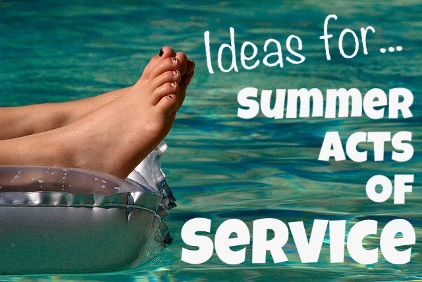 This summer, I want to offer you lots of ways to make this a season of giving back. There are a so many activities that you can do with your kids, as a family, to serve others. Whether you are serving one another within your home (and sometimes that's the hardest thing for kids to learn: how to serve siblings!), serving your community, or serving globally on a larger scale, these long summer days are the perfect time for going, doing, and helping others.
Today's a great day to call your local food pantry and ask if you and the kids could come by and help with sorting cans, packing boxes, washing down tables, or anything they might need. Don't forget to take a few items from your own pantry that they can use. The items that food pantries need the most are these staples:
Peanut butter
Canned meat
Canned vegetables
Canned fruit
Pasta
Cereal
Talk about what it would feel like to have nothing to eat. Ask your kids, What does it feel like when your tummy is empty? Help your kids learn to sympathize with families who are going through difficult times.
Love to serve with your kids? Do you have a favorite service/ministry project that your family does together? We're featuring your service ideas for a summer of giving back. Submit a short guest post in our easy form HERE.
See all the great ideas for Summer Acts of Service on Faithful Provisions.