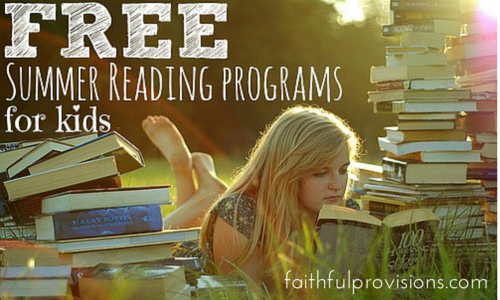 One of the main things we do to try to create a love of learning is to encourage lots of reading. So, I love all the great Summer Reading Programs business offer for little readers. One of the ways we encourage reading is with a seasonal reading chart with rewards at different levels that we print and laminat from Homeschool Creations.
While I don't believe in solely relying on testing scores to determine a child's ability, this quote was quite confirming of the importance of reading, not just during the school year, but all year long! I am a firm believer that learning begins with a love of reading. So take your kids to the library and let them pick out some books to dig into this summer.
"The benefits of summer reading are clear. National research finds that students who participate in library summer reading programs scored higher on reading achievement tests at the beginning of the next school year than those who did not participate."
2015 Summer Reading Program Round-Up
Barnes & Noble
Read any 8 books and record them in the Reading Journal.  Bring the completed Reading Journal to your local B&N store  between May 19 – September 7, 2015 and your child will be able to choose a free book from their selection on the Reading Journal list at the store.  Also, be sure to join Barnes & Noble's Free Kids' Club – as a welcome gift, you'll receive 30% off the list price on any one kids' book or toy, a $5 reward for every $100 you spend on kids' items online and in stores, and a free cupcake from their café for all your children's birthdays.
Book Adventure
Kids in grades K-8 can search for books, read them offline, come back to quiz on what they've read, and earn prizes for their reading success. My favorite prize is their free, three month subscription to the Highlights magazine!
Books-A-Million
Each year, Books-A-Million offers a summer reading program. Read four books on their summer reading form and receive a free tote bag (while supplies last).
Chuck E. Cheese
Just download and print out the calendar, mark off days with a pen or sticker as your child accomplishes his/her goals, bring in the completed calendars to Chuck E. Cheese's and receive 10 free tokens as a reward.
Education.com
In conjunction with PBS Kids, you will find suggestions and printables for creating your own DIY Summer Reading Camp, complete with a new theme each week (for 10 weeks).
Family Christian Bookstore
Children ages 12 and under, can participate in Family Christian Bookstore's reading program. Just read any six Christian books. Complete a book report form for each title and take all six into any Family Christian store. Even if you don't live near a store you can participate by submitting your completed forms and mailing address to customerservice@familychristian.com. Family Christian will give you a $10 savings pass, good toward any purchase of $10 or more.
Half Price Books Summer Reading
Children who are in the 8th grade or below, must read for at least 15 minutes each day for a month (Grown-ups may read aloud to kids who are still learning), add up their minutes and have their parent or guardian initial each week.  Once they have read for 300 minutes, they can turn in their completed reading log (by July 31, 2015) to earn $5 HPB Bookworm Bucks for the month. Highschoolers can also earn Bookworm Bucks, but they must write book reviews. This program kicks off with the biggest story time of the summer on Sunday, June 7th at 2 PM.
PBS Kids
On their website, you can find books they've published, suggested reading lists, and practical suggestions for creating a literary home.
Pizza Hut
Join Pizza Hut's Summer Reading Challenge.  Their website offers printables, online games, book lists, and more.  And, when you child reads 5 books, they will be eligible to win some fun prizes!
Pottery Barn Kids
Pottery Barn Kids is offering fun and educational activities at your local store!  Throughout the summer, visit their weekly story time (on Tuesdays between 11 – 11:30, check your store for details) and receive a special gift after attending five story times.
Scholastic
The Scholastic Summer Challenge is a free reading program dedicated to stopping the "Summer Slide" and encouraging kids to read every day this summer.
Showcase Cinemas
Every Wednesday from July 8-29, 2015, kids can read a book and fill out a book report form to receive free admission to select Bookworm Wednesdays movies. (Accompanying parents and siblings under 6 receive free admission as well.)
TD Summer Reading Program
TD Bank makes reading fun while teaching young people the importance of saving money. Participating is easy: 1) Read 10 books this summer, 2) print out the Summer Reading Form, 3) write down the names of the books they've read, 4) take the form to the nearest TD Bank,  and 5) receive $10 in a new or existing Young Saver account.
Find Summer Activities for Kids on my Pinterest board!