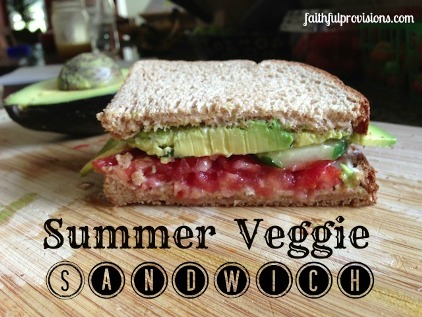 When summer is in full swing, this is my all time favorite thing to make. It is kind of like a smorgasbord on bread. I grab whatever I have from the garden or leftover produce, but my absolute favorite things to put on this sandwich I have listed in the actual "recipe" below.
*Scroll down to use print recipe feature and add to your Recipe Box.
The best part of this is that you can substitute whatever things you have on hand. For instance, use pita or a crusty french bread hollowed out instead of sandwich bread. You could even substitute grilled veggies to take this simple sandwich up a notch.
Here are some of my favorite things to add in:
Spinach
Peppers (banana, jalapeno, red, or green)
Onions (green, white, or red)
Pickles or cucumbers
Hummus, guacamole, vinaigrette, mayo
As you can see the options are endless!
Summer Veggie Sandwich
Ingredients
2 slices of sandwich bread, toasted
1 tablespoon mayonnaise or hummus
Sliced tomatoes, cucumbers, and avocado
Salt and pepper
Red wine vinaigrette
Instructions
Let toasted bread cool, then spread with mayonnaise and layer with vegetables.
Liberally season with salt and pepper, then sprinkle with your favorite vinaigrette. (Any flavor will do!)
Find more recipes for sandwiches and wraps on Faithful Provisions!
Recipe developed by Kelly Hancock ©2013 Faithful Provisions. For personal use only. May not be reproduced, reprinted or distributed for capital gain without prior permission from Kelly Hancock.