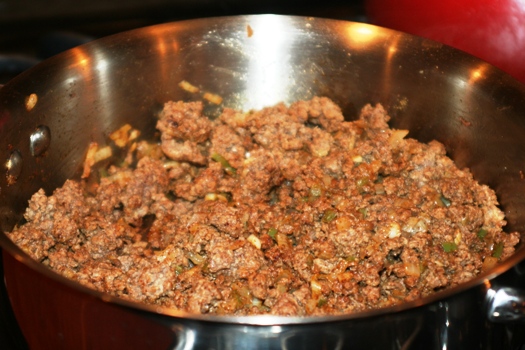 Anything resembling Mexican fare is a favorite in our house. I love pulling together this taco-flavored meat recipe to use on either soft or crunchy tacos, a Taco Salad, or even Beef Enchiladas or burritos. Depending on your tastes, you can use beef, chicken, or even turkey. With the heavy seasoning, it is perfect for any of these.
*Scroll down to use print recipe feature and add to your Recipe Box.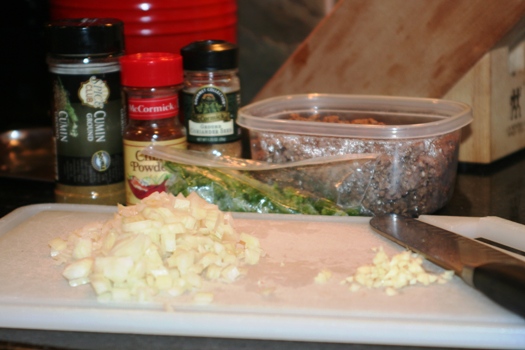 This recipe is super simple, freezes really well, and the ingredients are normal pantry staples. It is my alternative to the Taco Seasoning pouches you get in the grocery store. It tastes much better, in my opinion–and I think you'll agree!

Taco Meat
Ingredients
1 pound of ground beef, chicken, or turkey
1 onion, diced
1 jalapeno, finely diced
1 garlic clove, minced
¼ cup water
1 tablespoon chili powder
1 tablespoon cumin
1 teaspoon coriander (optional)
½ teaspoon salt
Instructions
In a large saute pan, brown ground beef for about 4-5 minutes.
Add onion, jalapeno and garlic.
Saute until cooked.
Once the meat mixture is cooked through, add spices and water. (The water will cook out leaving you with a nicely seasoned ground beef to use in any Mexican-inspired meal.)
Make the following using this Taco Meat base:
Recipe developed by Kelly Hancock ©2010 Faithful Provisions. For personal use only. May not be reproduced, reprinted or distributed for capital gain without prior permission from Kelly Hancock.