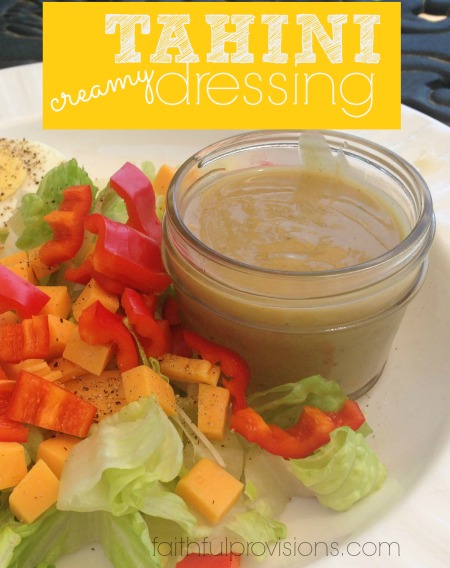 Tangy Tahini Salad Dressing
Salads are one my number one "go-to" lunch or last minute dinner idea. I keep some type of greens on hand at all times (usually spinach). In the effort to remove more processed foods out of our diet, I found out that dressings were a big culprit of processed and chemically laden ingredients.
I can make my own salad dressing or vinaigrette in less than a minute and it tastes much better than bottled. I have experimented with lots of different types of dressings, but vinegar or citrus based is usually my favorite.  It has a lighter and brighter flavor that I prefer.
Health Benefits of Tahini
I keep Tahini on hand at all times, for dressings and a simple homemade hummus. Tahini is made from sesame seeds and is packed with essential vitamins and minerals. As with most things we eat, I try to go for organic Tahini (or at least non-GMO) options if our budget will allow.
If you are wondering why to use Tahini in your cooking, here are a few health benefits I found interesting:
Promotes and helps maintain healthy skin and muscle tone.
High in unsaturated fat (that's the good fat!)
Easy to digest because of its high alkaline mineral content.  This makes it great to help in weight loss.
Rich in minerals like phosphorus, lecithin, magnesium, potassium and iron.
High in vitamin E and vitamins B1, B2, B3, B5 and B15.
A good source of Methionine (this aids in liver detoxification)
Best source of calcium.   This is especially important to us ladies to prevent osteoporosis!
Promotes healthy cell growth.
Helps to prevent anemia.
Almost a complete protein, which makes it better than nuts.
Tangy Tahini Vinaigrette
Ingredients
1 tablespoon tahini
1 teaspoon lemon juice
1 tablespoon olive oil
1-2 drops liquid stevia (or honey)
Instructions
Combine all ingredients into a small bowl and whisk together.
Pour over your favorite salad.
Do you like to make your own dressings and vinaigrette? Find more of my favorite vinaigrette and dressings here.