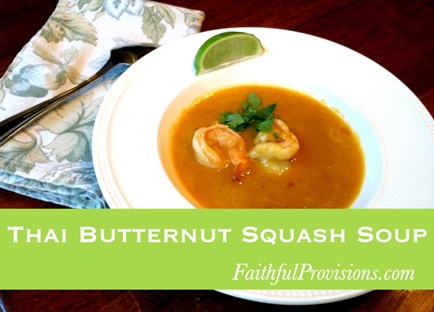 Of all the ways to use all the wonderful butternut squash that is in season right now, this Thai Butternut Squash Soup recipe* is by far my favorite. I love anything Thai-inspired, using ginger, garlic, lime, and cilantro. All those flavors together are fabulous, but combine them with butternut squash and it gives this a rich creaminess that is quite addictive.
The only big variable here is the butternut squash preparation. There are two ways that you can do it.
OPTION #1: Roast, puree, and make ahead. This is the way I like best because it creates a creamier soup. I prefer to just slice it down the middle, remove the seeds and string, and roast it. Then once it has cooled thoroughly, I'll scoop out the flesh and puree with a little chicken stock. I like to take a kitchen prep day, planning for a nice little block of time, and then I'll usually do a few squashes at once. This is how I make the recipe for butternut squash soup base HERE, and I'll keep some of this puree in the refrigerator or freezer for a recipe like today's Thai Butternut Squash Soup.
OPTION #2: Cook Now Method. Or, if you don't have the puree done ahead of time, you can simply chop the squash up into small one-inch cubes and simmer in the chicken broth and coconut milk for about 20 minutes, or until tender.
There you have two different methods depending on  how much time you have.
I don't know what else to say other than, You need to try this! It is really that good. Uhm, I couldn't even wait for my husband to get home from work–I had a quick bowl before he got home. (Then I had more for dinner!)
Now the leftovers…I can't wait to pour the leftover soup over noodles or rice…nom nom!
Thai Butternut Squash Soup
Ingredients
2 teaspoons oil (coconut or grapeseed)
1 medium onion, chopped
3 cloves garlic, finely diced
1 tablespoon fresh ginger, finely diced
1 jalapeno, diced and seeded (optional)
2 tablespoons red curry paste
2 teaspoons brown sugar
½ teaspoon sea salt
4 cups butternut squash, roasted and pureed
2 cups chicken stock
1 can coconut milk
1 lime, zested and juiced
½ pound medium shrimp, butterflied
½ cup fresh cilantro, chopped
Lime wedges
Instructions
In a large stock pot heat oil over medium heat, add onions, ginger and garlic (and jalapeno, if you want some heat). Cook, about 5 minutes or until onion is translucent.
Stir in remaining ingredients: red curry paste through lime. Cook for 10 minutes until it begins to thicken. If it gets too thick, add more chicken stock.
Before serving, stir in shrimp and simmer about 2 minutes.
Serve in bowls garnished with cilantro and a lime wedge.
You might also like my recipe for Baked Butternut Squash Soup HERE.
*This recipe adapted from Whole Foods