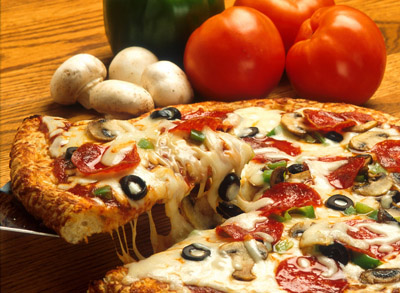 Looking for a few Thanksgiving Eve pizza deals? The Wednesday night before Thanksgiving Day is quickly becoming the night for ordering pizza! Maybe it's because your oven is already working overtime, or maybe it's because you know there will be so much turkey over the next several days, or maybe you want a night where you can just enjoy your family without worrying about preparing the meal. Whatever your reasoning, there is something to be said for planning on a Wednesday pizza night, especially when you can find a great deal like the ones below.
Pizza Hut Deals
Get 50% off an online purchase of Pizza Hut's new Overstuffed Pizza if you're among the first 1,000 fans who visit the promotion beginning at 4 a.m. EST this Wednesday, Nov. 21 on PizzaHut.com (coupon is redeemable 11/21-11/28/2012).
Beginning Red Roof Wednesday through Cyber Monday (Nov. 26) all online orders are 15% off exclusively for Pizza Hut Facebook fans.
Did you know that Pizza Hut allows pre-ordering? You can order your pizza up to seven days in advance.
Domino's Pizza Deals
Order a large 3-topping pizza at Domino's and pick it up for just $7.99.
Papa John's Pizza Deals
Order online at Papa John's and get 25% off your entire order when you use the promo code TURKEY. Offer ends midnight, Wednesday, November 21.
Will you do pizza on Thanksgiving Eve? If so, will you order or make it yourself? If not, what's your traditional night before Thanksgiving meal?