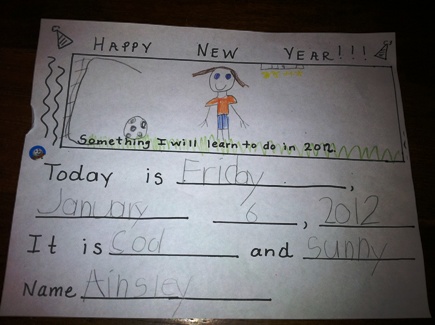 Over the last few weeks I've been sharing my goals for 2012 and encouraging you to set some too.  But, I have to tell you about this really sweet thing that my daughter did.  We have been encouraging her to get into a group sport for the last year or so, namely soccer. But from our viewpoint, she had dismissed the idea.  My husband and I thought it would be a great activity for her. She is so competitive and we felt it would give her a great outlet to get her energy out, a good atmosphere and opportunity to unleash her competitive spirit.
When this picture came home in my daughter's school folder, it made my heart swell. Her goal this year is to learn soccer. It was such a neat picture of how our children desire to please us.  And a reminder, that they listen even when you don't think they are! Even when you think your words fall on deaf ears, or they couldn't possibly get what you are saying.
Remember, they hear and see all you do.  And, as I am seeing, their ultimate desire is to please us. This has taught me that I need to be very deliberate with what I want her to think is important. Her desire to have a goal this year and it be something we encouraged her in, shows that she does listen and desire to please us. Knowing that is there in their hearts gives us a great opportunity to then lead them to please their Heavenly Father.
Have you ever had a moment like that when you realize your children are listening and reacting to what you are doing? I'd love to hear your stories!
Have you missed articles in my Devotional Series?  Head over to my Devotionals Page to see them HERE.