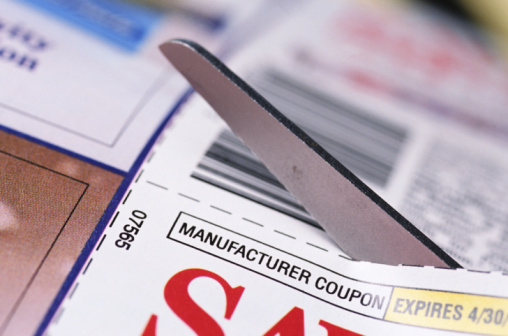 I've gotten tons of questions lately from people who want to know my view on the new TLC show, "Extreme Couponing." I want to share that with you today, but first, I want to be sure that you're keeping in mind that this show, like every other, is motivated by ratings. The "extreme" nature is sure to attract viewers, and viewers attract ratings, which are the bottom line for any network.
Everything the extreme shopper puts in his or her cart is an advertisement for some company or brand, plus the store itself is getting publicity, not to mention the paid commercial slots for the show. Keeping that in mind, here's what most stores (unless you walk in with video cameras) are not going to let you do:
Tie up a checkout line for five hours.
Accept massive quantities of the same coupon.
Double coupons past the value of the item (i.e. moneymakers – this doesn't always happen, it depends on the store).
Allow the purchase of unlimited quantities on specials.
Define Stockpile. Seeing the vast amounts of goods that the extreme couponers have stockpiled skews the picture of what a normal, healthy stockpile is. There are food pantries in America's major cities that can't compete with what some single families have stored in their homes (as revealed by the show). So what should a stockpile look like?
Different. My family's needs (2 adults, 2 small children) are going to be different from a single person's needs, or a family with teenagers. I teach people to buy enough of a sale item to get you through to the next sale. For example, when Kroger has a $10/10 sale on peanut butter, a family that loves peanut butter should purchase at least ten, or enough to get you through the next 3-4 months until it goes on sale again. (Check out my post, How to Start Stockpiling.)
Contained. Clearly, if you don't have room in your home for anymore stuff, it's time to stop stockpiling. If you've come to a point where you don't have a family room because the grocery stockpile has taken over, it's time to stop. When you are putting food and miscellaneous items in rooms in your home that can no longer function as they were intended, then where is the quality of life for your family? What are you teaching your children about what is important?
Generous. We keep a box out in our garage where we "stockpile" for the next trip to our local food bank. I will put items in that box—not even carrying them into the house—after each grocery trip. When that box is full, it is given away.
Time is money. An extreme stockpile is a testimony to accomplishment. But think about it: All the time and effort spent in getting all that stuff—stuff you don't need—is just sitting there. You could spend half the amount of time, money, and energy in purchasing the items your family really needs.
Honestly, you don't have to spend all that time couponing. Couponing is definitely a great way to save money, but there are lots of other ways too! You have to think about your lifestyle, and you have to think about your family. For example, do you want to eat more healthfully? Is a family member restricted to an organic or gluten-free diet? Then you're not going to find as many coupons. You'll save the most money by purchasing what's in season and on sale. And you may save more money by shopping at more than one store.
Remember: Just because you have a coupon for it, doesn't mean you need to get it. (Last year I wrote this post on Couponing Ethics.)
Have you seen the show? What are your thoughts?
More Posts to Help You Get Started:
Frequently Asked Questions
Coupon Organization:  Part 1 and Part 2
How to Read a Sale Ad
Couponing 101
Coupon Lingo Guide
5 Tips to Using Coupons
Chasing the Deals
How to Set a Grocery Budget
Read the follow-up to this post: TLC's Extreme Couponing Show Brings Coupon Policy Changes
photo credit: Getty Images