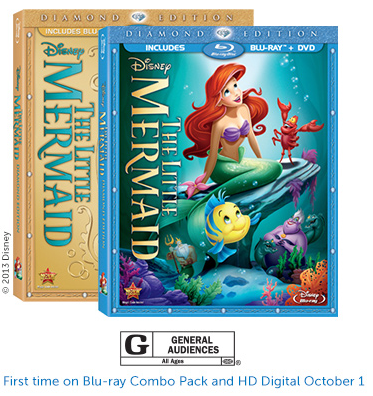 The Little Mermaid As Low As $12.96 After Coupon + Free Movie Ticket!
Disney's "The Little Mermaid" comes out today, and if you printed the Little Mermaid coupon I posted about earlier, you can get the Blu-ray/DVD Combo pack for only $12.96! Walmart has The Little Mermaid for $19.96, making it only $12.96 after the coupon, PLUS it comes with $8 movie cash to see Disney's "Frozen"!
In case you're not a Walmart shopper, here's a round-up of the best places to use it.   If you prefer to do most of your shopping at one location, remember that Walmart, Target and Best Buy will all price match!
Blu-Ray 3D/Blu-ray/DVD + Digital Copy:
Blu-ray/DVD + Digital Copy:
Blu-ray/DVD Combo:
DVD:
Remember, this Little Mermaid coupon is valid thru October 4, 2013 and is good on the Blu-ray/DVD Combos only.  It can not be used on DVD.
Thanks to Online Movie Coupon for help compiling this list!