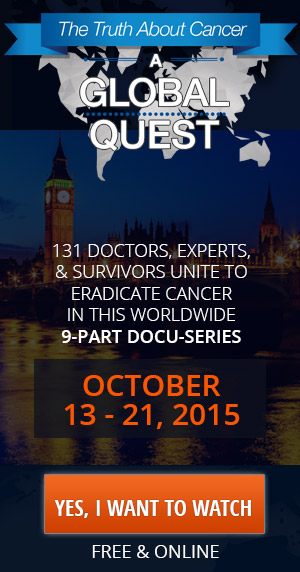 Have you wondered about the causes or prevention of cancer? 
Do you want to know how others have cured cancer without chemo and radiation? 
If so, this new docu-series "The Truth About Cancer – A Global Quest" by Ty Bollinger is one you don't want to miss. I have been able to watch through Episode 3 and I am so glad I have taken the time to understand how cancer works, the causes, the myths, the root and all the many ways we can help our bodies fight and prevent cancer from invading our bodies.
*Each episode is packed full of new and amazing information, survivor stories and much more in our pursuit to find a cure and eradicate cancer… once and for all. 
Episode 1: The True History of Chemotherapy & The Pharmaceutical Monopoly
(October 13th  9:00PM Eastern US time)
Episode 2: Cancer Facts and Fictions, Breast Cancer, Hormones, Skin Cancer & Essential Oils
(October 14th  9:00PM Eastern US time)
Episode 3: Cancer-Killing Viruses, Cancer Stem Cells, GMOs, Juicing & Eating the Rainbow
(October 15th)
Episode 4: Excitotoxins that Fuel Cancer, Nature's Pharmacy and Healing Cancer with Sound & Light
(October 16th)
Episode 5: Cancer Causing Blindspots, Toxic Vaccines, Homeopathy & The Power of Emotions
(October 17th)
Episode 6: The NOCEBO Effect, Healing Vaccines, Advanced Detoxing & Going Inside A German Cancer Clinic
(October 18th)
Episode 7: Heal Cancer with Clean Electricity, Unique Water, Natural Sunlight & Combining Superfoods
(October 19th)
Episode 8: Cannabis, Nature's Epigenetic Switches, Peptides & Healing with Micronutrient Therapy
(October 20th)
Episode 9: Cancer Conquerors & Their Powerful Stories of Victory
(October 21st)