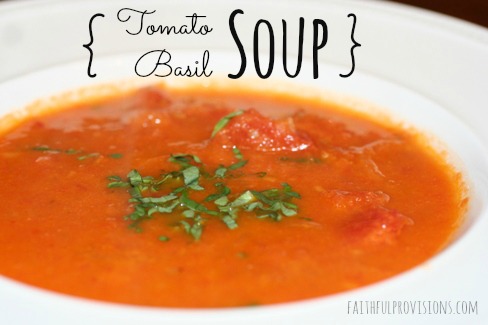 This Tomato Basil Soup is best on a cold night accompanied by any kind of bread, but I am partial to enjoying it with a buttery grilled cheese sandwich. I think you'll find this recipe is more affordable than most tomato soup recipes, which will make it even taste even better, LOL, plus it is a healthy recipe that freezes well.
*Scroll down to use print recipe feature and add to your Recipe Box.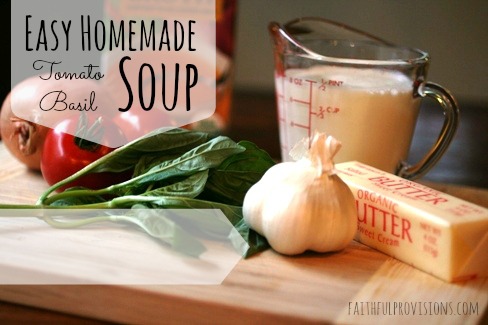 I actually used tomatoes I blanched and flash froze from my summer stash, but you can use fresh or even canned in this recipe. They all taste great. In addition, the fresh basil always looks prettier and does have a fresher taste, but if it is the middle of the winter, and there is no fresh basil in your garden, the dried basil will work just fine.
Enjoy!
Tomato Basil Soup
Ingredients
1 onion, cut in half and thinly sliced
2-3 garlic cloves, minced or 1 tablespoon jarred
28 ounces of crushed tomatoes, or puree diced tomatoes (but leave it a little chunky for some texture)
2 tablespoons sugar
1 teaspoon salt
½ teaspoon pepper
1 cup whole milk
1 can chicken broth
6 tablespoons butter
3 tablespoons fresh basil or 2 tsp dried basil
Instructions
Saute onions and garlic in 3 tablespoons of butter until soft.
Add crushed tomatoes, chicken broth, and sugar. Bring to boil, then reduce heat and simmer for about 10-15 minutes.
Season to taste with salt and pepper.
Add basil, reduce heat to low; stir in milk and remaining butter. Cook until butter is melted.
You might also like:
Recipe developed by Kelly Hancock ©2010 Faithful Provisions. For personal use only. May not be reproduced, reprinted or distributed for capital gain without prior permission from Kelly Hancock.