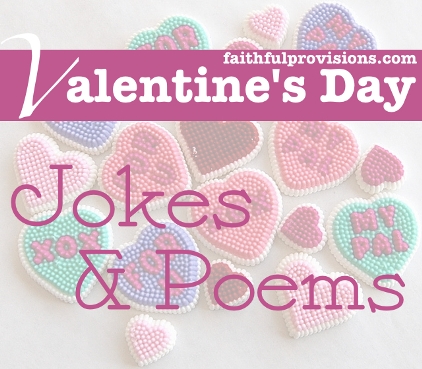 It's time to get your "silly" on with these cute Valentine's Day jokes and poems. My kids love silly knock-knock jokes, and here are some cute ones they can memorize. My son will say the same one over and over and belly laugh at his own jokes–that is worth it right there!
Short Valentine's Day Jokes
Knock-knock jokes are perfect little short Valentine's Day jokes that you can write on cards, share with friends, and teach to your kids so they can share them too. (Grandparents always laugh at knock-knock jokes…)
Knock-knock!
Who's there?
William.
William who?
William (Will ya) be my Valentine?
Knock-knock!
Who's there?
Frank.
Frank who?
Frank (Thank) you for being my Valentine.
Knock-knock!
Who's there?
Halibut.
Halibut who?
Halibut (How about) a kiss, sweetheart?
Knock-knock!
Who's there?
Eyesore.
Eyesore who?
Eyesore (I sure) do like you!
Knock-knock!
Who's there?
Iguana.
Iguana who?
Iguana (I wanna) take you out on the town!
Knock-knock!
Who's there?
Ben.
Ben who?
Ben (Bend) down and kiss me!
Knock-knock!
Who's there?
Olive.
Olive who ?
Olive (I love) you!
Humorous Valentine's Day Poems
Oh, the cheesyness of it all! Check out these humorous Valentine's Day poems.
If My Ship Comes Sailing In
If my ship come sailing in
The morning of Valentine's Day,
I'll wait to see if you'll be mine
Before I sail away.
Love Hasn't Killed Anyone Yet
The doctor said don't worry, don't fret—
Love hasn't killed anyone yet.
But just in case the side effects do,
Be sure you know that I love you!
Whenever You Look in My Eyes
I'm no Superman
But in the dreams I plan
I'm flying high with you.
I'm the hero, undefeated,
Always knowing what to do.
But in reality, I'm just Clark Kent
With awkwardness my only disguise.
I'm just hoping you'll see
what you mean to me
whenever you look in my eyes.
Find more great Valentine's poems for kids HERE to give to parents, teachers, and friends.
These original poems were created solely for Faithful Provisions, ©2013 Faithful Provisions. For personal use only. May not be reproduced, reprinted or distributed for capital gain without prior permission from Faithful Provisions.