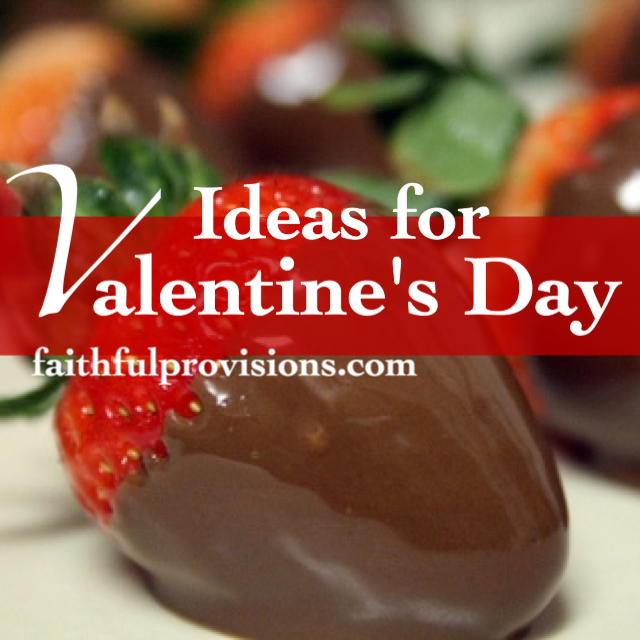 February 14th isn't even recognized as a national holiday, yet it seems like every year it is celebrated with more fanfare. If you're in need of some great Valentine's ideas, you've come to the right place. I've got ideas for you that are easy, inexpensive, and always lots of fun. I hope you find something you like for your celebration of Valentine's Day right here.
Homemade Valentine Ideas
We've rounded up terrific, easy homemade Valentine ideas for things you can make, goodies you can bake, and sweet gifts you can take to friends and family this Valentine's Day. There are cookies, ideas for homemade Valentine cards, and a really nice framed gift that would be perfect for a special Valentine or on display in your own home. See all these homemade Valentine ideas HERE.
Valentine's Day Boxes
You'll find lots of tips for your Valentine's Day boxes HERE, with ideas for using the craft supplies and ordinary boxes you have on hand for making really cute boxes for your kids to put their Valentines in. Do you remember all the excitement around Valentine's Day when you were a kid? It still happens every year! You want your child to enjoy making something that he or she can be proud to show off on Valentine's Day, so head over to see all my tips HERE.
Valentine Box Ideas
You'll find several examples of Valentine box ideas that will get your creative juices flowing. I've rounded up unique ideas for Valentine boxes for boys as well as Valentine boxes for girls. Older boys who aren't very excited about all the ribbons and lace of valentines will find something to get excited about with Valentine boxes that look like a crocodile or a basketball hoop. Girls will love decorating their own personalized Valentine boxes. See all these Valentine box ideas HERE.
Cheap Valentines Ideas
According to Paul McCartney and John Lennon, "Money can't buy me love!" And actually, when it comes to cheap Valentines ideas, lots of the ideas that I have listed for you really can't be bought. They can't exactly be bought with money because they require a greater investment: time and effort. Time spent with the one you love on Valentine's Day, words invested in a love letter, attention lavished generously on your sweetheart…Inexpensive? Maybe. Cheap? Nope. Check out 14 "cheap" Valentines Ideas HERE.
Valentine's Day Craft Ideas
If you're looking for Valentine's Day craft ideas, then I have several easy ideas for you. In fact, we put the kids' valentines together in just about 10 minutes the other day–and they turned out really cute! I love using Pinterest to find simple things to do. Check out these great Valentines crafts ideas HERE.