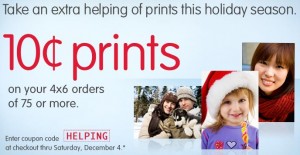 My friend Sherry was telling me that she found about 5 boxes of unused Christmas cards in her attic the other day.  These are the kind that you can put a 4×6 photo in and mail them out.  She bought them about 3 years ago at an after Christmas sale but forgot to use them.  So, I know she'll want to take advantage of this great photo deal at Walgreens.
From now until December 4th, you can get 4×6 prints for only 10 cents each when you order 75 or more and use code HELPING.  Here are the details:
Click over to the Walgreens site
Click "Photo" at the top of the screen near the logo
Upload and order your pictures
Use code HELPING when you check out
You should be able to select in-store pick up as your delivery option which will save you shipping costs
You should see the 10 cents each price
 So, check your Christmas supplies to see if you have any surprises like Sherry did!
::  Check out the latest Photo Deals at Faithful Provisions.