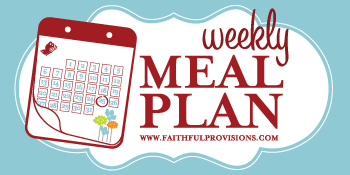 Since everyone's week and schedule is unique, I'm listing some of the things on sale at various grocery stores, and then following that with a selection of recipes from my Recipe Box that coordinate with those sales. Let me know if you like this and if it helps you out with planning your meals this week.
*If you think the Weekly Meal Plan is something your friends could use, please share it on Facebook!
KROGER (Prices good all week)
Kroger continues to run some good deals on meat this week: Perdue Boneless Chicken Breast ($1.99/lb) and Turkey ($.79/lb). If ham is going to be on your Thanksgiving table, the Kroger Boneless Ham is $2.29/lb.
Red, Orange, and Yellow Peppers are $1.25/each. Stock up and flash freeze so you have them on hand and available in your freezer. See all the KROGER Deals HERE.
PUBLIX (Shop before prices change on Wednesday)
The best deals at Publix this week are on poultry. Whole Chicken ($.99/lb), Publix Young Turkey, 10 to 24 lb ($.59/lb) **Limit 5 turkeys – more than 5 will be $.99/lb
You'll also find great deals on fruit: Tangerines or Florida Navel Oranges, 3 to 4 lb bag ($2.50), Royal Gala or Fiji Apples ( $1.29/lb), Raspberries or Blueberries, 5.6 to 6 oz – $2.50 (Stock up and freeze some berries for smoothies)
Stock up this week on Campbell's Cream of Mushroom and Cream of Chicken soups, as well as Nestle Tollhouse Chocolate chips. See all the PUBLIX Deals HERE.
Whole Chickens: When I get a deal like this on whole chickens, I stock up and make Roast Sticky Chicken, and then turn it into Homemade Chicken Broth.  Both can be frozen, which means you "never pay full price again"! 
ALDI (Shop before prices change on Wednesday)
Don't miss these produce deals: Gala, Gold, Granny Smith, Red Delicious Apples, (3 lb bag – $1.99), Carrots, (2 lb bag – $0.69), Asparagus ($2.29/lb), Yellow Onions (3 lb bag – $0.89). Stock up on Sweet Potatoes, 3 lb bag – $0.99. Learn how to freeze sweet potatoes HERE. See all the ALDI deals HERE.
More Resources
I have new Shopping List templates available for you. Whether you are shopping at one store or multiple stores, you can keep things organized with these FREE downloadable lists.
I always hope that I'm providing you with helpful content. If you found news you could use, please share it with your friends on Facebook. Thanks for telling others about Faithful Provisions!