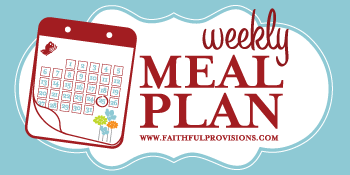 Need ideas for your weekly meal plan? I'm listing some of the things on sale at your grocery stores and then following that with recipes from my Recipe Box that coordinate with those store deals. Let me know if you like this and if it helps you out with planning your meals this week.
*If you think it's something your friends could use, please share it on Facebook using the button above!
Click on a Plan Below
My Weekly Meal Plan
I will be posting my weekly meal plan for you soon!
Any Store Meal Plan
As you're putting together your weekly meal plan, remember that there are some items that are always going to be on sale during the month of February, no matter where you shop, so you will see them in recipes here each week, just to give you a variety of ideas for your planning.
*Click on the links below to go directly to recipes for each item!
It's National Hot Breakfast Month, so bacon, hot cereals, syrup, and pancake mixes are on sale. February is National Canned Food month too, so you will find great prices on canned goods. This is a great opportunity to help stock local food pantries. Plus, this is the Chinese New Year, so any store will have sales on items like stir fry and ramen noodles.
Don't miss all the seasonal deals on produce! Avocados are at their absolute lowest prices right now. Spinach is on sale (Find all my recipes for Spinach HERE in one place: the Ingredient-Based Recipe Index) and you'll find great deals on sweet potatoes, mandarin and navel oranges, and tangelos.
*Print out my full listing on my Seasonal Fruits and Vegetables Chart. (Post it as a reference on your refrigerator.)
Try these recipes for your Any Store Meal Plan this week:
Find out What to Buy When in February, and stock up on food items at their lowest prices!
KROGER (Prices good all week)
This is week #1 of the "Daytona 500 Mega Event." There are some pretty decent deals this week. There are great prices on strawberries & blueberries this week – perfect for making homemade strawberry-banana smoothies or blueberry spinach smoothies! You've got to love these Mega Events! Once you get the hang of matching these sales prices with coupons, just like we show you in the coupon matchups HERE, you will really be able to stockpile the food items your family enjoys and save money like never before.
Remember, it's National Hot Breakfast month, so you'll save on Pillsbury Grands Biscuits, 8 ct ($0.99), Eggo Waffles, Pancakes or French Toast ($1.99), and Oscar Mayer Fully Cooked Bacon ($2.69).
In the meat department this week, find Kroger Value Boneless Skinless Chicken Breasts ($1.99/lb), Hillshire Farm Smoked Sausage ($3.00), and Tilapia Fillets ($2.99/lb).
STOCK UP on Kraft Barbecue Sauce ($0.69), Dove or Degree Deodorant ($1.69), and Capri Sun or Kool-Aid Jammers ($1.99).
:: See all the Kroger Deals HERE.
PUBLIX (Shop before prices change on Wednesday)
Be sure to pick up Idaho Potatoes, 5 lb bag ($2.99)–why not enjoy a simple "baked potato night" with lots of different toppings. Also, Florida Strawberries are $2.50, which is a decent, out-of-season price. In the meat department, check out Whole Boneless New York Strip, in the bag, cut and wrapped free ($5.99), Shoulder London Broil ($4.99/lb), and Fresh Tilapia Fillets ($6.99/lb).
STOCK UP on these BOGO deals: Duncan Hines Moist Deluxe Cake Mix, 16.5 to 18.25 oz, (excluding Decadent and Angel Food) ($0.92), Post Cereal: Pebbles, Churros, Alpha Bits, Honey Comb, or Golden Crisp, 9.5 14.75 oz ($1.63), Pasta or Rice a Roni, 3.8 to 7.2 oz ($0.68), and Barilla Pasta Sauce, 24 oz ($1.39).
:: See all the Publix Deals HERE.
I always hope that I'm providing you with helpful content. If you found news you could use, please share it with your friends on Facebook. Thanks for telling others about Faithful Provisions!
More Resources
I have new Shopping List templates available for you. Whether you are shopping at one store or multiple stores, you can keep things organized with these FREE downloadable lists.