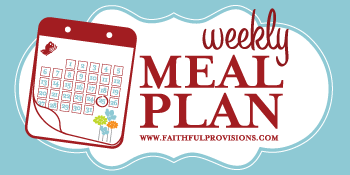 Need ideas for your weekly meal plan? I'm listing some of the things on sale at your grocery stores and then following that with recipes from my Recipe Box that coordinate with those sales. Let me know if you like this and if it helps you out with planning your meals this week.
*If you think it's something your friends could use, please share it on Facebook using the button above!
Click on a Plan Below
My Weekly Meal Plan
Sorry I didn't get mine up yet!  I just returned home from Ecuador yesterday and have been working on a photo slideshow for you and will be "winging it" this week until I can get back into my normal routine!
What is on your weekly meal plan this week? I'd love to hear your ideas!
Any Store Meal Plan
As you're putting together your weekly meal plan, remember that there are some items that are always going to be on sale during the month of February, no matter where you shop, so you will see them in recipes here each week, just to give you a variety of ideas for your planning.
*Click on the links below to go directly to recipes for each item!
National Hot Breakfast Month is coming to a close, so I hope you have been able to take advantage on the deals on bacon, hot cereals, syrup, and pancake mixes are on sale. There are lots of breakfast foods you can make ahead and pop in the freezer in individual serving sizes. Be sure to read my post, Freezer Friendly Egg Recipes: Quiches, Pies, and More HERE.
Don't miss all the seasonal deals on produce! Many of the very best heart healthy foods are in season and on sale, including Spinach. Check out my post, 10 Heart Healthy Foods and Recipes HERE. You'll also find great deals on sweet potatoes, mandarin and navel oranges, and tangelos. Try some of these great tasting oranges in the Any Fruit Smoothie.
*Print out my full listing on my Seasonal Fruits and Vegetables Chart. (Post it as a reference on your refrigerator.)
Try any of these recipes for your Any Store Meal Plan this week:
Find out What to Buy When in February, and stock up on food items at their lowest prices!
KROGER (Prices good all week)
The Cart Buster Savings Event is beginning this week, so be on the lookout for "Deal of the Day" e-coupons to begin Wednesday, February 29 through March 6th. (Be sure you don't miss any of these. Subscribe to the Faithful Provisions daily newsletter HERE.)
It's a good week for fish lovers. Find SeaPak Breaded Shrimp, 9-20 oz for $4.99 (BOGO Free Price), Snow Crab Clusters ($6.99/lb), and Tilapia Fillets ($4.99/lb). Plus, Assorted Pork Chops are $2.99/lb and Boneless Chuck Roast is just $3.49/lb.
There are lots of specials in the produce aisles. Be sure to get some Avocados or Mangoes ($1.00), Red Seedless Grapes ($.99/lb), Peaches or Nectarines ($1.68/lb), and Fresh Selections or Dole Premium Garden Salad, 9-12 oz ($2.00).
STOCK UP on SoBe Lifewater, 20 oz ($1.00), General Mills Cereal (As low as $1.29 with our coupon matchups HERE), Campbell's Chicken Noodle or Tomato Soup ($.75), and Kroger Liquid Hand Soap ($.77).
:: See all the Kroger Deals HERE.
PUBLIX (Shop before prices change on Wednesday)
It's Week 2 of the Italian Days Sale at Publix. There are many duplicate items in the BOGO matchups, so you have another week to really stock up your pantry! In addition to the Italian Sale, there is also an In-Ad Special to get a FREE Publix Deli Rotisserie Chicken when you buy any 4 participating P&G Items. Be sure to see our complete Publix Deals and Coupon Matchups HERE.
In the meat department, you'll like Chicken Leg Quarters ($.99/lb), Sirloin Tip Roast ($3.99/lb), Publix Tuna Steaks, frozen, 12 oz ($5.99), and Publix GreenWise Top Sirloin Steaks ($5.99/lb). In the beautiful Publix produce section, check out Publix Red Potatoes, 5 lb ($2.99), Asparagus ($2.49/lb), Florida Strawberries, 16 oz ($1.67), and Florida Tangerines or Juice Oranges, 3 or 4 lb ($2.50).
STOCK UP on Arnold Bread, 20 oz ($1.39) – (bread freezes well!), Green Giant Canned Vegetables, 14.5 to 15.25 oz, (excluding Asparagus Cuts) ($0.64), Hunt's Natural Tomatoes, or Puree or Sauce, 28 to 29 oz ($0.99), Progresso Broth, 100% Natural, 32 oz ($1.29), Alma's Macaroni Product Organic Pasta, 16 oz ($.99).
:: See all the Publix Deals HERE.
I always hope that I'm providing you with helpful content. If you found news you could use, please share it with your friends on Facebook. Thanks for telling others about Faithful Provisions!
More Resources
I have new Shopping List templates available for you. Whether you are shopping at one store or multiple stores, you can keep things organized with these FREE downloadable lists.