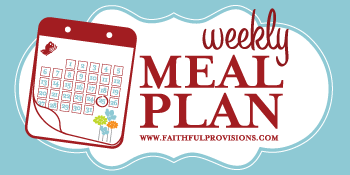 Need ideas for your weekly meal plan? I'm listing some of the things on sale at your grocery stores and then following that with recipes from my Recipe Box that coordinate with those sales. Let me know if you like this and if it helps you out with planning your meals this week.
*If you think it's something your friends could use, please share it on Facebook using the button above!
Click on a Plan Below
My Weekly Meal Plan
Since I have been shopping the sales and using coupons a while, many of the items here may not match up perfectly with current sales. That's because I have a lot already stocked in my freezer and pantry. If you are just starting out, you might want to checkout one of the meal plans below to help you out this week.
This is my TRUE meal plan, so I am going to show you how our week changed and how I adapt. Last week we had lots of leftovers from all the cooking I had done the week before, so it was mostly using what I had in the refrigerator to recreate meal ideas.
This week I also have some items on hand but I am going to scale back and only do one or two big meals, and then use all the extra from those meals this week.  This will make my week easier. I'll start with browning up two pounds of ground beef for the spaghetti, which will go towards making Baked Ziti.  Then the extra pound of ground beef will sit in the fridge for our Tacos later in the week.
Now, I don't have any taco shells on hand, but I do have a ton of corn tortillas in the freezer.  So, I am going to shape them like a taco (by letting them sit in the underside of a muffin tin), brush them with a little oil and heat them in the oven for about 6 minutes. I hope to have a tutorial on this soon for you, but it is super simple.
Sunday: Whole Wheat Pumpkin Pancakes (Brunch) , Super Bowl Snacks (ideas HERE):  BBQ Chicken Nachos
* I made a double batch of pancakes for another morning this week. Plus, we will grill two batches of chicken to use in the enchiladas later.
Monday: Smoked Turkey Sausage, Spinach and Rice Soup (new recipe!)
* I am just pulling together some different items we have in the fridge and freezer I need to use.  Hope it turns out good.  If so, I'll put it up as a recipe for you soon! Anyone have good ideas for this?

Tuesday: Crockpot Spaghetti Sauce
*The leftovers will be turned into Baked Ziti later, or put into the freezer.

Wednesday:  Cream Cheese Chicken Enchiladas with Salsa Verde (My favorite ones!)
* Shredding extra chicken from our Chicken Nachos Sunday.
Thursday: Baked Ziti , salad
* Using the extra spaghetti sauce from Tuesday, I'll also fold in some fresh spinach to add some more nutrients. We always use whole wheat noodles to make it a more balanced meal.

Friday:  Pizza Night! Homemade Pizza Dough with Homemade Pizza Sauce
*Top with whatever is left in fridge, my new favorite is fresh chopped spinach, sliced tomatoes, green olives, peperocinis and artichokes.

Saturday:  Taco Meat (using homemade taco seasoning )
*I love to make a double batch of this and freeze for soups and tacos later. Perfect for Beef Taco Soup (just sub beef for the chicken here).

What is on your weekly meal plan this week? I'd love to hear your ideas!
Any Store Meal Plan
As you're putting together your weekly meal plan, remember that there are some items that are always going to be on sale during the month of February, no matter where you shop, such as these seasonal items. So you will see them each week here, just to give you a variety of ideas for your planning.
*Click on the links below to go directly to recipes for each item!
It's National Hot Breakfast Month, so bacon, hot cereals, syrup, and pancake mixes are on sale. February is National Canned Food month, so you will find great prices on canned goods too. This is a great opportunity to help stock local food pantry's. Plus, this is the Chinese New Year, so any stores will have sales on items like stir fry and ramen noodles.
Don't miss all the seasonal deals on produce! Avocados are at their absolute lowest prices right now (Aldi and Publix have the best prices this week, as low as $.49/ea!), and you'll find great deals on sweet potatoes, mandarin and navel oranges, and tangelos.
*Print out my full listing on my Seasonal Fruits and Vegetables Chart. (Post it as a reference on your refrigerator.)
Try these recipes for your Any Store Meal Plan this week:
 Find out What to Buy When in February, and stock up on food items at their lowest prices!
KROGER (Prices good all week)
This week, Kroger is running a Quarterback Savings Event. There are tons of deals and ways that you can stock up. In the meat department, find great prices on Kroger Value Chicken Leg Quarters ($.69/lb), Perdue Split Chicken Breasts ($1.29/lb), and Perdue Whole Roaster Chickens ($.99/lb). In the produce section: California Navel Oranges, 8 lb bag ($3.99), Kroger Idaho Potatoes, 5 lb bag ($2.49)
STOCK UP on Kroger Butter ($2.50), Hunt's Manwich Sauce ($.75), Hunt's Pasta Sauce, 26 oz ($.75), Banquet Brown 'N Serve Sausage ($.75), Kroger Tomatoes, 14.5 oz can  ($.60), and Zatarain's Rice or Pasta ($.75).
*Eating organic on a budget? This week, you can save big on Organic Granny Smith Apples, 3 lb bag ($3.99). Perfect for making a Homemade Apple Pie
:: See all the Kroger Deals HERE.
PUBLIX (Shop before prices change on Wednesday)
Publix produce this week includes great deals on: Haas Avocados ($.64), Florida Celery ($.99), and Sweet Onions ($.99). In the meat department, you'll find Pork Spareribs ($1.99/lb), Boston Butt Roast ($2.49/lb), and Publix Premium Semi-Boneless Ham Half ($1.79/lb).
* BBQ Pulled Pork Recipe: Rub your butt roast with mustard and sprinkle with your favorite rub.  Put in a crock pot for 10-12 hours on low (start early or overnight). Shred and serve with BBQ sauce on buns.
STOCK UP on Birds Eye Frozen Vegetables, 7.5 to 32 oz, or Corn on the Cob (50% off). Also, BOGO deals that are worth your time include Post Cereal, Selects or Great Grains, 13 to 16 oz box ($1.82), Kraft Mayonnaise, 30 oz ($2.32), Contadina Tomato Sauce, 15 oz ($.62), and Sweet Baby Ray's Barbecue Sauce, 18 oz ($1.18).
:: See all the Publix Deals HERE.
I always hope that I'm providing you with helpful content. If you found news you could use, please share it with your friends on Facebook. Thanks for telling others about Faithful Provisions!
More Resources
I have new Shopping List templates available for you. Whether you are shopping at one store or multiple stores, you can keep things organized with these FREE downloadable lists.