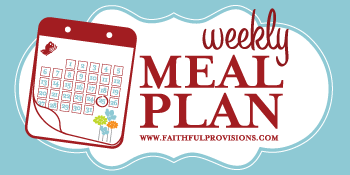 Need ideas for your weekly meal plan? I'm listing some of the things on sale at your grocery stores and then following that with recipes from my Recipe Box that coordinate with those sales. Let me know if you like this and if it helps you out with your meal planning this week.
*If you think it's something your friends could use, please share it on Facebook using the button above!
Click on a Plan Below
My Weekly Meal Plan
As you will start to see, I make a plan for the week and as the week goes on, things change. Imagine that!  This is my TRUE meal plan, so I am going to show you how our week changed and how I adapt. Last week we ended up doing a very fun, but unplanned family birthday dinner out and on Friday night my mother in law gave us a surprise date night. So, two of our meals were never needed. I will just roll those over into this week.
Since I made a lot of crock pot and staple items last week, this week we are going to be incorporating a lot of the leftovers into our meals. And that means not a lot of cooking for me!  I have lots of black beans, shredded chicken and eggs on hand, so I will see what I can turn those into. Here is my tentative plan.
Sunday: Breakfast for dinner, Eggs & Bacon, Toast, sliced apples
Monday:  Homemade Chicken Noodle Soup, cheese bread (never made it, so will make this week)
I will use the Homemade Chicken Stock  and leftover chicken from Crock Pot Roasted Chicken last week, adding whole wheat wide (egg type) noodles with carrots and celery.
Tuesday: Spicy Chicken and Black Bean Bowl
*I will make this just using my leftover chicken and black beans from last week.
Wednesday:  Roast Beef Sandwich with Peperoncinis
* I have shredded beef brisket (roast) in the freezer, and rolls.
Thursday: Ham and Cheese Quiche, and a Pear Walnut Salad (using spinach)
*I have lots of eggs, frozen pie crust and spinach and ham on hand. I'll throw whatever else I have in my fridge to finish it off.
Friday:  BBQ Chicken Pizza (never had it last week)
*Use leftover chicken from  last week and top with freezer veggies.
Saturday: Dinner Out with Friends
*We have started attending out Saturday night church service and we use our local coupon book to get a half price dinner out!
What is on your weekly meal plan this week? I'd love to hear your ideas!
Any Store Meal Plan
As you're putting together your weekly meal plan, remember that there are some items that are always going to be on sale during the month of January, no matter where you shop, such as these seasonal items. So you will see them each week here, just to give you a variety of ideas for your planning.
*Click on the links below to go directly to recipes for each item!
Avocado (*See all my Avocado Recipes HERE)
Cabbage
**It's National Oatmeal Month, so you'll find oatmeal products on sale everywhere, too. Be sure to check out all my Recipes for Oatmeal HERE.
Plus, as you plan for your Super Bowl Party, you'll see lots of sales on chili fixings (beans, tomato sauce, chili seasonings), ground beef, chicken, and chips. These recipes will be money-savers wherever you shop–perfect for your super bowl party:
Find out What to Buy When in January, and stock up on food items at their lowest prices!
KROGER (Prices good all week)
The Kroger Game Day Greats Mega Event continues this week. In the meat department, take advantage of Kroger or Private Selection Shrimp Rings, 9-40 oz (BOGO Free–price will vary), Johnsonville Smoked Sausage or Cooked Brats ($2.50), and Perdue Boneless, Skinless Chicken Breasts ($1.99/lb–stock up price!).
Several great deals are available in the produce section, including Bell Peppers: Red, Orange or Yellow, ($1.00/ea–get some to flash freeze), D'Anjou Pears ($.99/lb), and Avocadoes or Mangoes ($1.00/ea). **Not sure what to do with a mango? Be sure to watch my video tutorial, How to Cut a Mango HERE.
If you've got kids around, STOCK UP on Pepperidge Farm Goldfish Crackers ($0.99), Capri Sun or Kool-Aid Jammers ($1.49), and Kraft Singles, 16 ct ($1.99).
Eating organic on a budget? This week, you can save on Mom's Best Naturals Cereal ($.49), Horizon Organic Milk, 3pk/8 oz ($1.94), and Organic Salad Mix ($2.99).
:: See all the Kroger Deals HERE.
PUBLIX (Shop before prices change on Wednesday)
Publix is not short on deals this week. A few standouts in the produce section include the 5-pound bag of Idaho Potatoes for $2.99 and Navel Oranges at just $.99/lb.
In the meat department, take advantage of great buys on Split Chicken Breast ($1.79/lb) and Chicken Leg Quarters ($.99/lb). These are rock-bottom prices, so you will want to be sure some of your weekly budget goes to stocking up on chicken for your freezer. Learn How to Maximize your Grocery Budget HERE.
STOCK UP on several go-to items for your pantry this week (price listed is after coupons): A1 Steak Sauce, 10 oz ($.62) and Rotel Diced Tomatoes (As low as $.06). There are freebies with coupon matchups for Starkist Tuna pouches (FREE) and JollyTime popcorn (FREE), both great items if you're striving to learn how to be healthy with more nutritious sandwich and snacking options.
:: See all the Publix Deals HERE.
I always hope that I'm providing you with helpful content. If you found news you could use, please share it with your friends on Facebook. Thanks for telling others about Faithful Provisions!
More Resources
I have new Shopping List templates available for you. Whether you are shopping at one store or multiple stores, you can keep things organized with these FREE downloadable lists.