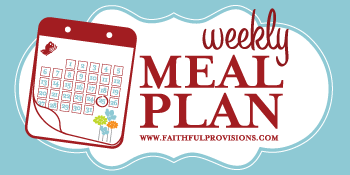 Need ideas for your weekly meal plan? I'm listing my family's menu for the week to give you some ideas for yours. Let me know if you like this and if it helps you out with planning your meals this week.
*If you think it's something your friends could use, please share it on Facebook using the button above!
My Weekly Meal Plan
I spent all last week canning–around 60 pounds of tomatoes. While it was definitely time-consuming, it was so worth it. I now have 24 pints of tomatoes and 12 pints of salsa to use throughout the year. Plus, I've got five quarts of frozen tomatoes (because I got sick of canning LOL!). So, as you can see, we have tomatoes coming out our ears–even though we haven't had much rain this summer. It's a good thing I love tomatoes (and even better that my family does too).
In the summer, when the days are long, active, and so hot, we do a lot of sandwiches for dinner–anything to keep from heating up the kitchen! The kids love them and Bradford and I do as well. (There is nothing like a sandwich full of slices of homegrown tomatoes!) Also, this week we have a whole watermelon that we are going to need to be sure we enjoy.
Sunday – White Bean Soup (in the crock pot–less heat than cooking it on the stove) with grilled cabbage, sliced tomatoes, and cornbread.
Monday – Tomato sandwiches with watermelon slices and a simple garden salad.
Tuesday – Crock Pot Roasted Chicken (I have several whole chickens in the freezer that were purchased on sale) with simple sides like steamed zucchini and squash, and Grilled Chile Lime Corn.
Wednesday – Chicken Fajitas with homemade salsa and guacamole from the freezer. I have all kinds of peppers and onions from the garden too, for fresh toppings!
Thursday – Cream Cheese Chicken Enchiladas (from the leftovers of my roasted chicken)
Friday – Black Bean Pizza
Saturday – Tomato Basil Quiche with the rest of the watermelon
What is on your weekly meal plan this week? I'd love to hear your ideas!
I always hope that I'm providing you with helpful content. If you found news you could use, please share it with your friends on Facebook. Thanks for telling others about Faithful Provisions!
More Resources
I have new Shopping List templates available for you. Whether you are shopping at one store or multiple stores, you can keep things organized with these FREE downloadable lists.