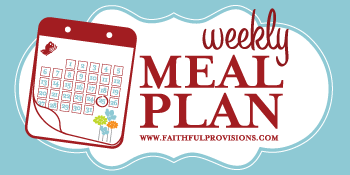 Need ideas for your weekly meal plan? I'm listing some of the things on sale at your grocery stores and then following that with recipes from my Recipe Box that coordinate with those sales. Let me know if you like this and if it helps you out with planning your meals this week.
*If you think it's something your friends could use, please share it on Facebook using the button above!
Click on a Plan Below
My Weekly Meal Plan
After looking at our calendar, I was surprised that I only needed to plan four meals this week, since every Friday is Pizza night! But what this also tells me is that I need to be diligent at getting lots of nutritious options in our diets for breakfast and lunch since we will not be eating at hoome as much. I find the more we don't eat at home, the less healthy we eat. Do you find that?
Well, last week I made a Slow Cooker Carne Asada and I still have quite a bit of beef leftover that we will use this week.  Plus I had some extra ground beef and a chicken breast that went into the freezer.  I will use the beef in a Taco salad, and I'll probably pull the chicken out and mix it with some refried beans for a lunch Southwestern Burrito.
Sunday: Community Group Dinner (no cooking for me!)
Monday: Baked Penne with Philadelphia Cooking Creme, Blue Cheese Salad (premade managers special at store), french baguette
*Since this makes such a big portion, I will be taking half to a friend who just had a baby. Plus this freezes VERY well!
Tuesday: Roast Beef Sandwich with Pepperoncinis , spinach salad with tomatoes
Wednesday:  Breakfast Burrito with Spinach and Bacon (my daughter asks for these!)
Thursday:  Taco Salad
*Using the leftover frozen ground beef, we will have a salad and I'll season up the beef for our salad.
Friday: Pizza Night! Homemade Pizza Dough with Homemade Pizza Sauce
*Top with whatever is left in fridge, my new favorite is fresh chopped spinach, sliced tomatoes, green olives, peperocinis and artichokes.

Saturday: Dinner out  for a Family Wedding
What is on your weekly meal plan this week? I'd love to hear your ideas!
Any Store Meal Plan
Spring is making a comeback in the southern region of the country this month, and you'll find great deals on several favorite fruits and veggies. Be watching for deals on basil, broccoli, and cucumbers, and check out my complete listing of March's in-season fruits and veggies HERE. Also, it is National Frozen Foods Month, so if you don't always hit the freezer aisles in your store, make sure you do so this month. You're sure to find entrees, pizza, and more on sale. And finally, this is the week you'll find the best prices on traditional St. Patrick's Day foods like corned beef, cabbage, and red potatoes.
Find out What to Buy When in March, and stock up on food items at their lowest prices!
KROGER (Prices good all week)
This is the first week of the "March Madness" Mega Event. These typically run for 2 weeks, so we should have a little time to get these deals. In the meat department, you'll find deals on Kroger Value Boneless Skinless Chicken Breasts ($1.99/lb), Atlantic Salmon Fillets, farm raised ($6.99/lb), and Boneless Corned Beef ($3.49/lb).
In the produce aisles, you'll find Green Cabbage ($.29/lb), Asparagus ($1.69/lb), Roma Tomatoes ($.78/lb) and more.
FROZEN FOOD DEALS: Jimmy Dean Breakfast Skillets or Sandwiches ($3.99), Smart Ones Entree ($1.49), Breyer's Ice Cream ($2.99)–be sure to load this –$1/1 Breyers Ice Cream Product Kroger eCoupon (exp 03/31/2012) HERE.
STOCK UP on Oscar Mayer Hot Dogs or Bologna ($1.49), Tombstone Pizza ($2.99), and CapriSun, 10 ct ($1.79).
**The new Philadelphia Cooking Creme is on sale this week. Why not get some and try some of the great recipes that are a part of the giveaway you'll find HERE.**
:: See all the Kroger Deals HERE.
PUBLIX (Shop before prices change on Wednesday)
It's another great week for deals at Publix, with lots of freebies, so be sure to check out my complete listing of all the Publix Deals with Coupon Matchups HERE. Don't miss Arnold Bread, 24 oz ($2.14), Barilla Pasta Sauce, 24 oz ($1.39), and Kellogg's Cereal: Frosted Flakes or Corn Pops, Apple Jacks or Froot Loops, 16.3 to 17.2 oz ($1.88).
In the meat department, you'll like Publix Whole Chicken, USDA Grade A ($1.29/lb), Fresh Tilapia Fillets ($6.99/lb), and Smithfield Naturally Hickory Smoked Bacon, Regular, Lower Sodium or Thick-Sliced, 16 oz ($3.33). On the produce aisles, check out Florida Green Cabbage ($.29/lb), Florida Herbs, Cilantro, Parsley or Italian Parsley ($.79), Florida Strawberries, 16 oz ($1.67).
STOCK UP on Campbell's Select Harvest Soup, 18.6 to 18.8 oz ($1.24), Chef Boyardee Pasta, 14.5 or 15 oz ($.74), and Knorr Pasta or Rice Sides, 3.8 to 6.4 oz ($.64). These would also be great donation items to your local food pantry.
:: See all the Publix Deals HERE.
I always hope that I'm providing you with helpful content. If you found news you could use, please share it with your friends on Facebook. Thanks for telling others about Faithful Provisions!
More Resources
I have new Shopping List templates available for you. Whether you are shopping at one store or multiple stores, you can keep things organized with these FREE downloadable lists.