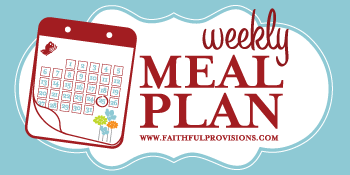 Need ideas for your weekly meal plan? I'm listing some of the things on sale at your grocery stores and then following that with recipes from my Recipe Box that coordinate with those sales. Let me know if you like this and if it helps you out with planning your meals this week.
*If you think it's something your friends could use, please share it on Facebook using the button above!
Click on a Plan Below
My Weekly Meal Plan
After returning from Ecuador last weekend, it has taken me a week to get caught up! We ate lots of leftovers and meals out this week, I couldn't seem to get it together enough to cook each night. But, that is why I meal plan and create a budget.  So that when I have a crazy week like this one I don't feel so guilty!
I went to the grocery last week to stock up on produce and necessities, but didn't do any couponing or major stocking up. I decided to keep it really simple.  But, it is about to be a great time of year to start stocking your freezer!  Strawberries will be in season soon, and I can't wait to go strawberry picking and flash freeze lots for our smoothies, like my favorite Strawberry Banana Smoothie!
Here is my loose plan for this week:
Sunday:  Chicken Tortilla Soup, Cheese Quesadillas and Apple Pie Pocket
*I dropped some frozen chicken leftovers into my crockpot this morning to make Homemade Chicken Stock, and will pull this together for the soup later this afternoon.  Instead of cooking the chicken for the soup separately, I dropped three frozen chicken breasts into the crockpot while the stock was simmering. I'll pull it out and shred it for the soup. Also, this is a great meal for a new mom. I am taking half of it to a friend this evening.
Monday: Crock Pot Beef Stroganoff and  steamed broccoli
Tuesday: Classic Pot Roast, mashed potatoes, garden salad
Wednesday: Shredded Beef Fajitas, chips and guacamole (from freezer)
*I will use leftover shredded beef from last nights pot roast, and stir-fry some peppers and onions from the freezer. I also froze a ton of guacamole after the big avocado sales a few weeks ago!
Thursday:  Leftovers
Friday: Pizza Night! Homemade Pizza Dough with Homemade Pizza Sauce
*Top with whatever is left in fridge, my new favorite is fresh chopped spinach, sliced tomatoes, green olives, pepperoncinis, and artichokes.

Saturday: Dinner Out (after church each Saturday night, we use a coupon from our CitySaver coupon book to save half off our meal)
What is on your weekly meal plan this week? I'd love to hear your ideas!
Any Store Meal Plan
Be on the lookout for deals wherever you shop on frozen food items, including meal entrees and pizzas. This month is known for college basketball's March Madness, so there will also be great deals on classic ballgame-watching foods–chips, dips, veggies, cold cuts for sandwiches, and ground beef. Seasonal fruits and veggies include cucumbers, avocados, mangoes, summer squash, and turnip greens. (Learn How to Cook Turnip Greens HERE.)
Find out What to Buy When in March, see more recipes, and stock up on food items at their lowest prices HERE!
KROGER (Prices good all week)
It's the second week of the Cart Buster savings at Kroger. There are so many great deals in the produce aisles! Be sure to check out my How to Flash Freeze Video so you can stock up on the savings. You'll want to get Bell Peppers: Red, Yellow or Orange, $1/ea, Yellow or Zucchini Squash ($.99/lb), and Strawberries, 16 oz ($1.28). The salad fixings look good this week too. Enjoy Kroger Grape Tomatoes ($1.67), Fresh Selections Premium Salad, 5-6 oz ($2.99), and Organic Mini Peeled Carrots, 16 oz ($1.50).
It's a good week to buy a couple of Boneless Pork Loin ($2.49/lb). Make one this week and freeze one for later. Also, Perdue Split Chicken Breasts, Drumsticks or Thighs ($1.29/lb), and Kroger Corned Beef ($3.49/lb). It is not always easy to find corned beef, and it can be pretty expensive. It's on sale now because it is associated with St. Patrick's Day. If you like it, stock up! Try my Corned Beef Brisket Recipe HERE.
STOCK UP on Pepsi Soft Drink, 2 Liter ($1.11), SoBe Lifewater, 20 oz – $1.00, and Campbell's Chicken Noodle or Tomato Soup ($.75)–soups are great for your local food pantry, too.
FROZEN FOOD DEALS: Marie Callender's Entree or Pot Pie ($2.20), Pillsbury Toaster Strudel or Scrambles ($2.19), Healthy Choice Entree, 9.5-12.5 oz ($2.20).
:: See all the Kroger Deals HERE.
PUBLIX (Shop before prices change on Wednesday)
In the Publix produce department, you'll find Romaine or Green or Red Leaf Lettuce ($1.29) and Florida Salad Peppers, 2 lb bag ($2.99). Frozen foods on sale include Mrs. Paul Fish Sticks, Fillets, or Parchment Bake Tilapia 7.2 to 22.98 oz ($2.99), Edy's Fruit Bars, 15 to 21 oz – ($2.32), Pillsbury Grands! Frozen Biscuit Sandwiches, 2 ct, Toaster Strudel 6 ct, or Egg Scrambles, 8 oz ($1.19). And in the meats, you'll like Pork Loin Country Style Ribs ($2.99/lb) and Boneless Shoulder Roast ($4.49/lb).
STOCK UP on these BOGO deals: Kraft or Seven Seas Dressing, 14 to 16 oz ($1.42), Skippy Peanut Butter, 15 to 16.3 oz ($1.89), Del Monte Tomatoes, 14.5 oz ($0.74), and Nature's Own Bread, 20 oz ($1.44).
SPRING CLEANING PRODUCTS: As mentioned on my post, What to Buy When: March, you will be seeing lots of great spring cleaning products on sale this month. Publix has great buys on Glass Plus Cleaner, 32 oz ($1.24)and Spot Shot Instant Carpet Stain Remover, 14 oz ($2.49). (Check out my healthy, green homemade cleaning products HERE.)
:: See all the Publix Deals HERE.
I always hope that I'm providing you with helpful content. If you found news you could use, please share it with your friends on Facebook. Thanks for telling others about Faithful Provisions!
More Resources
I have new Shopping List templates available for you. Whether you are shopping at one store or multiple stores, you can keep things organized with these FREE downloadable lists.