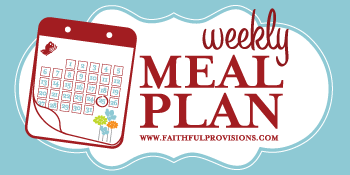 Need ideas for your weekly meal plan? I'm listing some of the things on sale at your grocery stores and then following that with recipes from my Recipe Box that coordinate with those sales. Let me know if you like this and if it helps you out with planning your meals this week.
*If you think it's something your friends could use, please share it on Facebook using the button above!
Click on a Plan Below
My Weekly Meal Plan
You probably noticed that I didn't do a Mother's Day Recipe Round Up like I usually do, but it was all in the hopes that my readers would be able to take the day off. I hope you have a great day today!
I went to my local Kroger on Friday and found manager's markdowns on tons of items: eggs, yogurt, cereal—all kinds of things! We're doing several egg dishes this week to take advantage of the specials I snagged.
Sunday: I'm off today!
Monday:  Tomato Basil Quiche
Tuesday: Grilled Chicken and Strawberry Spinach Salad with Sweet Balsamic Dressing
Wednesday: Breakfasts Burritos for dinner with grilled bacon and homemade whole wheat biscuits (Stay tuned for the biscuit recipe–it's coming this week!)
Thursday: Baked Ziti. Since this recipe makes so much, I'm freezing half of it. It's always nice to know there is a meal in my freezer ready to go–whether we use it or I share it with another family.
Friday: Pizza Night! Homemade Pizza Dough with Homemade Pizza Sauce
*Top with whatever is left in fridge, my new favorite is fresh chopped spinach, sliced tomatoes, green olives, peperocinis and artichokes.

Saturday: The kids are camping out with some friends Saturday, so we'll be doing burgers and hot dogs, chips, and a batch of my Chocolate Peanut Butter No-Bake Cookies.
What is on your weekly meal plan this week? I'd love to hear your ideas!
Any Store Meal Plan
May launches the summer grilling season, not to mention luscious in-season berries and other good-for-you fruit, so you'll find grilling meats and berries on sale this month. Try these recipes and you will find most of the ingredients on sale wherever you shop.
This is the month for great smoothie recipes too!
Find out What to Buy When in May, and stock up on food items at their lowest prices!
KROGER (Prices good all week)
It's week #2 of the USO Mix or Match Mega Event, so there are many repeats from last week. In the produce aisles, you'll find really good prices on lettuce, Sweet Vidalia onions, green bell peppers and more. The Kroger meat department is offering deals on Perdue chicken, pork chops, and wild caught Gulf shrimp. You'll find all the best deals, prices, and my Kroger coupon matchups HERE.
Stock up on (price shown is after coupon matchups):
Quilted Northern Bath Tissue, 12 Double Rolls – $4.99
DiGiorno Stuffed Crust or Pizza Plus – $3.99
Healthy Choice, 9.5-12.5 oz – $1.49
:: See all the Kroger Deals HERE.
PUBLIX (Shop before prices change on Wednesday)
You'll find great prices on Royal Gala Apples, Idaho Potatoes, Florida Grown Tasti-Lee Tomatoes, and more. In the meat department, look for great prices on ground turkey (use as a substitute in most ground beef recipes), tilapia, and pork loin.
Stock up on (price shown is after coupon matchups):
Vlasic Stackers Dills, or Pickles or Spears, 16 to 40 oz – $.69
Bumble Bee Premium Chicken Breast, 10 oz – $.99
Hunt's Tomato Ketchup, 35 oz – $.98
Hunt's 100% Natural Tomatoes, 14.5 oz – $.36 wyb 3
Sara Lee Honey Wheat Bread, 20 oz  – $.44
Make sure to pick up a few of the cheap Reach toothbrushes for your Operation Christmas Child boxes!
Recipes to try this week:
:: See all the Publix Deals HERE.
I always hope that I'm providing you with helpful content. If you found news you could use, please share it with your friends on Facebook. Thanks for telling others about Faithful Provisions!
More Resources
I have new Shopping List templates available for you. Whether you are shopping at one store or multiple stores, you can keep things organized with these FREE downloadable lists.