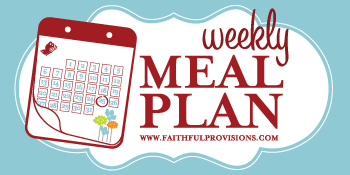 Since everyone's week and schedule is unique, I'm listing some of the things on sale at various grocery stores, and then following that with a selection of recipes from my Recipe Box that coordinate with those sales. Let me know if you like this and if it helps you out with planning your meals this week.
*If you think it's something your friends could use, please share it on Facebook!
KROGER (Prices good all week)
Kroger has a ton of meat on sale: Turkey ($.79/lb), Cumberland Gap Boneless Ham ($2.29/lb), Boneless Beef Shoulder Roast ($3.49/lb), Perdue Split Chicken Breasts ($1.19/lb), Ground Chuck ($2.49/lb), and Atlantic Salmon ($4.99/lb). Stock up on meat and your baking needs this week. See all the Kroger deals HERE.
PUBLIX (Shop before prices change on Wednesday)
Great deals on Barilla pasta, Green Giant Valley Fresh Steamers, Idaho potatoes, Boneless Skinless Chicken Breast ($1.99/lb–Rock bottom price!), Pork Loin Country Style Ribs, or Pork Sirloin Chops ($2.99/lb). Stock up on Kraft dressings, Kraft mayo, and Kraft BBQ sauce. See all the Publix deals HERE.
ALDI (Shop before prices change on Wednesday)
Great produce prices on broccoli, carrots,potatoes, and onions. Stock up on Countryside Creamery Butter Quarters and Chef's Cupboard Condensed Soup. Cream or Mushroom or Cream of Chicken, 10.5 oz. See all the Aldi deals HERE.
More Resources
I always hope that I'm providing you with helpful content. If you found news you could use, please share it with your friends on Facebook. Thanks for telling others about Faithful Provisions!