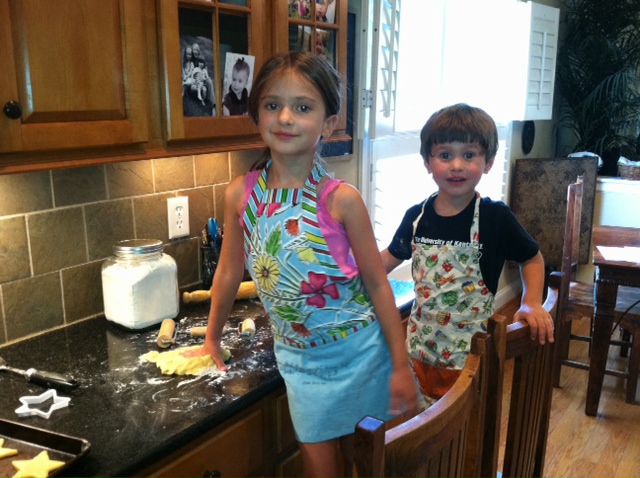 When it comes to preschool, consider this: These are the years when the real focus should be on preparing your child's character. That is where education determines whether a child is a success or failure.
Does your child understand that there are expectations he must meet?
Does he know what it means to obey the voice of authority?
Does he know how to follow simple directions?
These are keys to the next 13 years of school instruction, whether at home or in a public or private school setting. You probably won't be surprised to discover that I think you can easily cover these educational elements in the kitchen!
Expectations
Students are expected to behave in a certain way. Likewise, getting together in the kitchen to create something delicious has expected requirements. You're expected to wash your hands, to wear an apron of some sort, and never sneeze into the food! You're expected to take turns and even let others go first sometimes.
Obedience
It's important for your child to learn first-time obedience and to learn that there are consequences for ignoring the voice of authority. For example, when I say, Don't touch the stove, I mean it. When I say, Don't handle the knife, I mean it. Consequences may range from the unfortunate reality of learning the hard way and getting hurt by a hot stove or a sharp knife, to having to leave the kitchen and miss out on all the fun.
Learning
By following the simple directions of a recipe, my children have learned a lot. We learn numbers when we measure out cups of flour or tablespoons of butter. We learn letters and sounds when we spell out S-A-L-T or E-G-G-S or even P-A-P-R-I-K-A! And there are so many character traits that go along with food prep.
Patience.Waiting for the water to boil. Waiting for the cookies to bake.
Sharing.Taking turns. Giving some of those cookies to the neighbors.
Gentleness.Talking quietly and walking softly so the cake doesn't fall.
Self-control.One or two cookies now, but the rest for after dinner.
Always explain to your children exactly what you expect from them. Take time to use the teaching opportunities you have every day to make learning fun, to enjoy your relationship with your kiddos, and to get to know who they really are. While we wait for muffins to bakeor a cake to rise or the soup to simmer, we take advantage of the numerous kids' free educational resourcesthat are available online. Also, we love to take nature walks and play games.
*Remember: You want all the connections around preschool learning to be associated with positive elements—your love and your affection for your child being most important.
=========================================
I'm curious to know: What advice do you have for moms prepping for preschool? KinderCare will choose one lucky participant and make donation in their name to the Reach Out And Read chapter of their choice!
This is a sponsored conversation written by me on behalf of KinderCare. The opinions and text are all mine. Official Contest Rules.