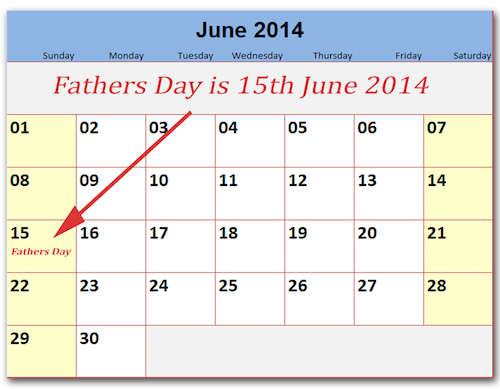 What day is Father's Day? Father's Day always falls on the third Sunday in June. This year, Father's Day is June 15, 2014. Celebrating Dad on his special day has never been easier with these great ideas for Father's Day gifts and Father's Day cards. Once you realize Dad's special day will be here soon, you'll want to click on all the links below and get started planning a Father's Day that is sure to be remembered.
Making Father's Day Special
Making Father's Day special should not be difficult, right? I've tried to find some easy craft ideas for you here, so please check them out. I don't know about you, but I think it's pretty hard to find the right Father's Day gifts for my dad. That's why here at Faithful Provisions, we are diligently searching for great gift ideas at budget-friendly prices, so you can pamper Dad with just the right present.
:: See ideas for Father's Day Gifts to Make or to Buy.


Honestly, lots of dads aren't known for being sentimental, so printable cards for Father's Day and even eCards are perfectly acceptable (and maybe even preferred!). My husband always has his iPhone on him, and he loves the advanced graphics and sounds that today's eCards offer–plus, he can show them off to all his friends.
:: Check out my collection of the best sites for you to find Father's Day cards: Printable and eCards.
You'll want to be sure you take a look at all the free Father's Day poetry that I've collected. I've got short ones, long ones, silly, and sentimental. They are easily transferred to the handmade card, wall-hanging, or bookmark you make for Dad.
:: Find several free Father's Day poems  HERE.
Who knows fathers better than other fathers? I am crazy about quotes, and I've pulled together some great Father's Day quotes from celebrities, presidents, and your favorite TV fathers too! They'll have you laughing, crying, and celebrating your dad and fatherhood.
:: Find my favorite Father's Day quote HERE.
The History of Father's Day
There are a couple of events which may have helped inspire the idea for a national Father's Day. Some people believe it was first motivated by a memorial service held in 1908 for a group of men, mostly fathers, who were killed in a West Virginia mining accident. There was also the influence of Sonora Smart Dodd, the daughter of a man who raised his six children on his own after their mother died. This widower's resolve to raise his own kids, rather than leave them in the hands of others or simply remarry, was not common at the time. Sonora wanted to recognize her dad's contribution and determination in the face of his loss. The first Father's Day was celebrated in 1910. It was not until 1972, however, that it was given official recognition as a national holiday by President Nixon.
How will you make Father's Day special this year? Please share your ideas with the Faithful Provisions community!