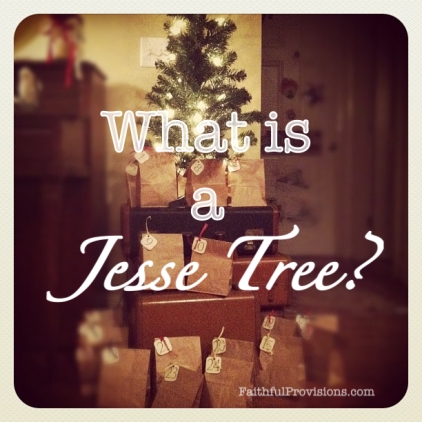 What is an Advent Jesse Tree?
I've been sharing a lot lately here on Faithful Provisions about the things we are doing to celebrate Advent, and a big part of the way we teach our children about what this season means is by using an Advent Jesse Tree.
Through various Scripture readings, the Jesse Tree takes the first 25 days of December to explain the lineage (or ancestry) of Jesus Christ. Stories that are key throughout the Old Testament are explained in a way that shows even very young children how the birth of Christ was planned and prepared, through God's people, across the ages. Children can make or color ornaments that represent each story and then hang them on a Jesse Advent calendar tree.
We have had so much fun over the years experiencing this with our children. And besides the fact that they are learning so much about Christ, I find every year that it refreshes me, and it challenges me to keep my focus on the true meaning of the Christmas season.
Make Your Own Jesse Tree Ideas
In years past, we have done the printable version of the Jesse Tree. (You can find different options for Free Advent Printables HERE.) This year, however, I got together with some friends for an actual Jesse Tree ornament exchange. We each made 25 of one day's Jesse Tree ornament to exchange. These are so beautiful. I took tons of pictures and want you to see what we did with our Jesse Tree ornament exchange HERE.
You can wrap the ornaments and put the day you want to open them on the outside of the wrapping. Then the children can unwrap one each day of Advent. Find ideas for wrapping your ornaments HERE.
Discover the meaning of Advent and different ways to celebrate the true meaning of Christmas on Faithful Provisions.