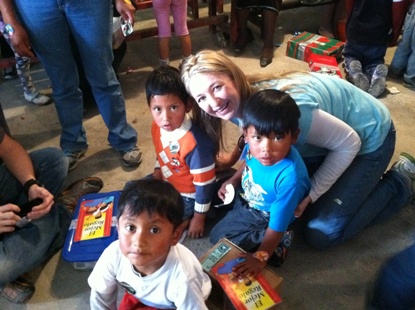 It was really just last February that I discovered the real answer to the question, "What is Operation Christmas Child?" I've participated in Operation Christmas Child (OCC) for many years, with my family and with church groups. For me, OCC meant filling a shoe box with as many goodies and gifts as I could gather, and then taking it to the collection site where the Operation Christmas Child crew would make sure that it got to a child who needed it.
Samaritan's Purse
Samaritan's Purse, which is the name of the ministry that sponsors Operation Christmas Child, refers to the story of the Good Samaritan (found in Luke 10:25-37). Jesus tells this story in response to a question He received one day. A man asked Him how to inherit eternal life. Jesus responded, "'You must love the Lord your God with all your heart, all your soul, all your strength, and all your mind.' And, 'Love your neighbor as yourself.'" The man's next question was, "Who is my neighbor?" So Jesus told this story to explain:
A Jewish traveler is beaten, robbed, and left for dead on the side of the road. A priest comes by and offers no help. Then a temple assistant comes by and ignores the half-dead man as well. But a Samaritan (a people who lived in hate-filled animosity with the Jews–mortal enemies) comes along and he helps the Jewish man. He cleans him up, bandages his wounds, then takes him to recuperate at an inn. From his own purse, the Samaritan pays the innkeeper to take care of the man, promising to pay any extra expenses that might be incurred when he comes back to check on him.
The answer to the question, "Who is my neighbor?" is simply, "Who isn't?"
:: Volunteering at Christmas is the best way to make it a Christmas to remember!
Operation Christmas Child Shoeboxes
Operation Christmas Child shoeboxes are much more to me now than something I just do. Now, although these boxes travel across the globe, they have names and faces. This year, Operation Christmas Child is different for me. I'm telling my kids stories about what I saw when I went on a distribution trip with OCC earlier this year. I'm talking about the kids I met and their families. I'm explaining what it felt like to hear the shouts as the children opened their boxes all at once, and I'm trying to describe what the joy on their faces looked liked. My kids love looking at my pictures from the trip. It's made them more excited than ever about filling this year's boxes.
::  Find 101 Ideas for filling Operation Christmas Child shoeboxes HERE.
"It starts with helping just one person, one family at a time, and doing what we can to give people relief and a sense of hope." ~Franklin Graham, President and CEO of the international Christian relief organization Samaritan's Purse
One box. One child. One life. One Hope. Won't you join me in putting together a shoebox this year? You can find out where to take your shoebox HERE.
:: Learn more about the ministry of Samaritan's Purse and Operation Christmas Child HERE.