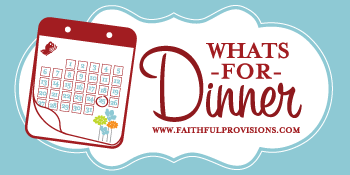 Tonight's Dinner Idea is Chicken Fajitas. I'm using leftovers from yesterday's roasted chicken (I love to cook once, and then morph the leftovers into several meals) and adding homemade salsa and guacamole from the freezer. We have an abundance of tomatoes, peppers, and onions from the garden too, for fresh toppings. This will be a one-dish meal, with some fruit for dessert.
Need a little inspiration? Check out my Recipe Box which is updated daily with new recipes!
=================================
Wondering what to make for dinner tonight? You'll love my money-saving recipes on what to cook for dinner! You are encouraged to not only list your dinner plans, but to request ideas and add your favorite recipes!