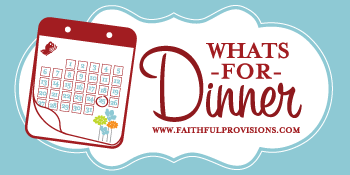 Tonight's Dinner Idea is Baked Ziti. Using the extra Crockpot Spaghetti Sauce from Tuesday, I'll also fold in some fresh spinach to add some more nutrients. (Spinach in on sale and in season now–check out my post, What to Buy When: February.) I always use whole wheat noodles to make it a more balanced meal.
Need a little inspiration? Check out my Recipe Box which is updated daily with new recipes!
=================================
Wondering what to make for dinner tonight? You'll love my money-saving recipes on what to cook for dinner! You are encouraged to not only list your dinner plans, but to request ideas and add your favorite recipes!