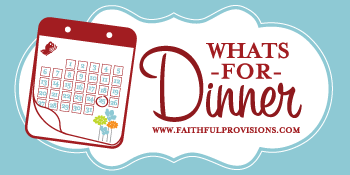 Tonight's Dinner Idea is BBQ Chicken Nachos. Bradford and the kids will be using leftovers from yesterday's Roasted Sticky Chicken for this meal. He will finish off the BLT Salad with Homemade Buttermilk Dressing (also from yesterday), and the kids will enjoy cut up carrots and cucumbers dipped in ranch dressing. This is a "forkless" meal for my kiddos–their favorite kind of dinner!
Be sure to check out this week's Weekly Meal Plan. I've got lots of ideas there that you can use to save money on your meal plan for this week.
Need a little inspiration? Check out my Recipe Box which is updated daily with new recipes!
=================================
Wondering what to make for dinner tonight? You'll love my money-saving recipes on what to cook for dinner! You are encouraged to not only list your dinner plans, but to request ideas and add your favorite recipes!