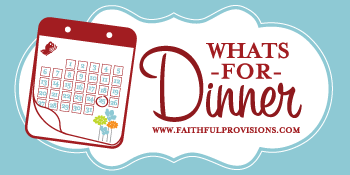 Tonight's Dinner Idea is Eggs with Avocado and Salsa and Hashbrowns. (The kids will be eating Egg in a Hole.)
We don't always eat what is on My Weekly Meal Plan or in the exact order that I have it down on my Meal Planning Template. It is a guide for me. When things haven't gone as planned, I often turn to breakfast for dinner. The kids love it, and Breakfast Recipes do make for a quick, easy, and filling dinner after a long day.
Get more great ideas for your Weekly Meal Plan HERE.
Need a little inspiration? Check out my Recipe Box which is updated daily with new recipes!
=================================
Wondering what to make for dinner tonight? You'll love my money-saving recipes on what to cook for dinner! You are encouraged to not only list your dinner plans, but to request ideas and add your favorite recipes!