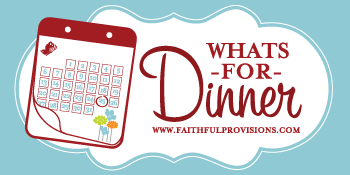 Tonight's Dinner is…Caramelized Onion Gourmet Burgers, a Carrot and Cucumber Ponzu Salad, Onion Roasted Potatoes and sliced tomatoes.
Check out the other meals you can make when you find a sale on carrots or potatoes in my Recipes by Ingredient List.
Need a little inspiration? Check out my Recipe Box which is updated daily with new recipes!
=================================
So, what's for dinner tonight at your house? You are encouraged to not only list your dinner plans, but to request ideas and add your favorite recipes!