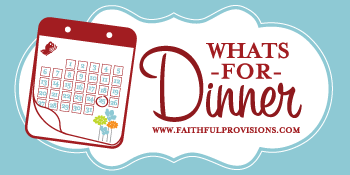 Tonight's Dinner Idea is Corned Beef Brisket. With St. Patrick's Day coming up, a delicious Corned Beef Brisket is the perfect way to celebrate–authentically! Corned Beef is on sale at Kroger this week, so get it while it is at it's rock bottom price (which only happens this time of year–see more tips for What to Buy When in March). See all the Kroger Deals HERE.
Need a little inspiration? Check out my Recipe Box which is updated daily with new recipes!
=================================
Wondering what to make for dinner tonight? You'll love my money-saving recipes on what to cook for dinner! You are encouraged to not only list your dinner plans, but to request ideas and add your favorite recipes!