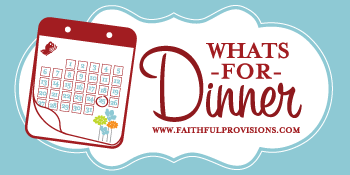 Tonight's Dinner Idea is Spaghetti–made super easy by putting the sauce in the crock pot! I try to stay away from anything too time consuming this week, as I am putting my time and effort into being ready for a big meal on Thanksgiving. We'll have last night's leftover salad with this. Any spaghetti sauce leftovers can go in the freezer, or I might just save them for tomorrow night's homemade pizza!
Need a little inspiration? Check out my Recipe Box which is updated daily with new recipes!
=================================
Wondering what to make for dinner tonight? You'll love my money-saving recipes on what to cook for dinner! You are encouraged to not only list your dinner plans, but to request ideas and add your favorite recipes!