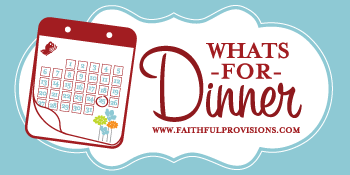 Tonight's Dinner Idea is my Crock Pot Texas Chili. You probably have most of the ingredients on hand. It's been a while since we've seen a really good sale on ground beef, so if you've been waiting for one, you'll find it at Kroger this week for $1.99 per pound, when you purchase it in a 5 pound roll. See all the Kroger Deals HERE.
Need a little inspiration? Check out my Recipe Box which is updated daily with new recipes!
=================================
Wondering what to make for dinner tonight? You'll love my money-saving recipes on what to cook for dinner! You are encouraged to not only list your dinner plans, but to request ideas and add your favorite recipes!