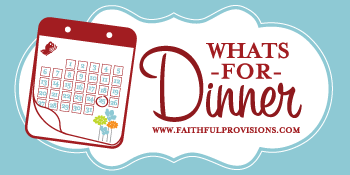 Tonight's Dinner Idea is Grilled Quesadillas with fruit.
You can save the most money when you make it your habit to only buy fruit that is in season–that automatically means that it will be on sale. I have a FREE downloadable chart that lists Seasonal Fruits and Veggies HERE. Also, every month we let you know What to Buy When, with reminders of what is in season and great recipes that go alongside those sales.
Need a little inspiration? Check out my Recipe Box which is updated daily with new recipes!
=================================
Wondering what to make for dinner tonight? You'll love my money-saving recipes on what to cook for dinner! You are encouraged to not only list your dinner plans, but to request ideas and add your favorite recipes!