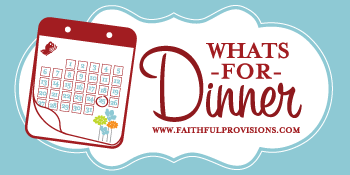 Tonight's Dinner Idea is anything but turkey, right? I've got plenty of turkey in the freezer to use in upcoming meals, but tonight we are taking a break and going with the vegetarian version of my Roasted Vegetable Pasta recipe for a Meatless Monday! (If you're not tired of turkey yet, add a cup of shredded turkey to this dish instead of chicken.)
Need a little inspiration? Check out my Recipe Box which is updated daily with new recipes!
=================================
Wondering what to make for dinner tonight? You'll love my money-saving recipes on what to cook for dinner! You are encouraged to not only list your dinner plans, but to request ideas and add your favorite recipes!