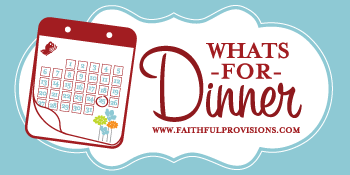 Tonight's Dinner Idea is something easy so you will be able to join me for the first ever Faithful Provisions Interactive Bible Study! Try my Mom's Hearty Spaghetti Sauce over your favorite pasta and have an easy side salad with it.
You might like:
Need a little inspiration? Check out my Recipe Box which is updated daily with new recipes!
=================================
Wondering what to make for dinner tonight? You'll love my money-saving recipes on what to cook for dinner! You are encouraged to not only list your dinner plans, but to request ideas and add your favorite recipes!