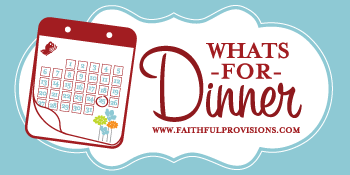 Tonight's Dinner Idea is Spicy Chicken and Black Bean Bowl. I'm using leftover chicken and black beans from last week's meals. Don't miss the Perdue Boneless, Skinless Chicken Breasts on sale at Kroger this week for $1.99/lb. (That's a stock up price!) See all the Kroger Deals HERE.
Need a little inspiration? Check out my Recipe Box which is updated daily with new recipes!
=================================
Wondering what to make for dinner tonight? You'll love my money-saving recipes on what to cook for dinner! You are encouraged to not only list your dinner plans, but to request ideas and add your favorite recipes!