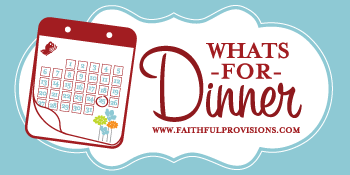 Tonight's Dinner Idea is Thai Eggplant and Pasta Salad. This week I'm basing quite a few of my meals around all the vegetable sales at Kroger for squashes and eggplant. If you have never had eggplant, try roasting or grilling it. It is absolutely divine!
See all this week's meal ideas on my Weekly Meal Plan.
Need a little inspiration? Check out my Recipe Box which is updated daily with new recipes!
=================================
Wondering what to make for dinner tonight? You'll love my money-saving recipes on what to cook for dinner! You are encouraged to not only list your dinner plans, but to request ideas and add your favorite recipes!