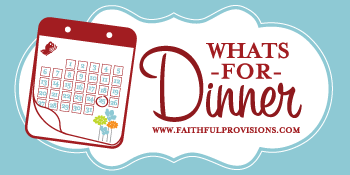 Tonight's Dinner Idea is Tomato Sandwiches. If you have a garden or if you know someone who does, homegrown tomatoes make the very best sandwiches. We love to have simple suppers during the summer, and I will often serve sandwiches or an easy pasta dish in the evenings. Enjoy your tomato sandwiches with a little mayo (Hellmann's!) and sliced cheese (cheddar, provolone, Swiss), or indulge by adding a layer of grilled bacon. We are rounding out the meal with watermelon slices and cucumber salad.
Need a little inspiration? Check out my Recipe Box which is updated daily with new recipes!
=================================
Wondering what to make for dinner tonight? You'll love my money-saving recipes on what to cook for dinner! You are encouraged to not only list your dinner plans, but to request ideas and add your favorite recipes!