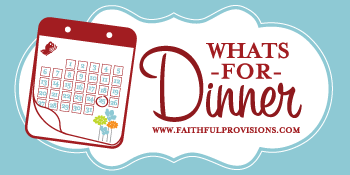 Tonight's Dinner Idea is turkey with at least a few trimmings, like Sweet Potato Casserole and Green Beans. Kroger has turkey on sale this week for $.99/lb. (See all the Kroger recipes HERE.) That's a great price for a lean meat that you can use in lots of different recipes. They are frozen, so be sure you read my post, How to Thaw a Turkey HERE. I encourage you to stock up and take advantage of this low price.
Learn how to cook a turkey HERE.
Need a little inspiration? Check out my Recipe Box which is updated daily with new recipes!
=================================
Wondering what to make for dinner tonight? You'll love my money-saving recipes on what to cook for dinner! You are encouraged to not only list your dinner plans, but to request ideas and add your favorite recipes!