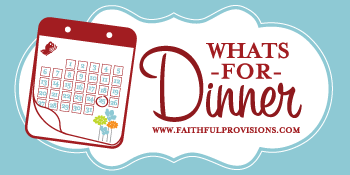 Yum, yum! Tonight's Dinner Idea is Whole Wheat Pancakes, in celebration of National Pancake Day! Serve these with eggs and sausage, bacon, or ham, or take your "breakfast for dinner" up a notch by serving these alongside Publix GreenWise Top Sirloin Steaks, on sale through today. (See all the Publix Deals ending today HERE.) Keep your Whole Wheat Pancakes low calorie by simply topping with fruit and/or yogurt. Delicious!
Check out my National Pancake Day post HERE for more recipes! Don't want to make your own? Head over to IHOP today only, February 28th, for a FREE Short Stack of pancakes!
Need a little inspiration? Check out my Recipe Box which is updated daily with new recipes!
=================================
Wondering what to make for dinner tonight? You'll love my money-saving recipes on what to cook for dinner! You are encouraged to not only list your dinner plans, but to request ideas and add your favorite recipes!