To celebrate summer fun, Redbox is asking moms, "What's the best animated movie that both kids and parents can enjoy?" Plus, they are rewarding 2 lucky people with a chance to win $10,000 as part of the Redbox Summer of Fun & Games Sweepstakes.
I don't know about you, but honestly, there are some animated movies that I can barely sit through with my kids. And in the same way, I'm sure there are plenty of movies that my kids would never be able to sit through with me. It must be very difficult for film makers to find the balance in creating entertainment that really is fun for the whole family, because the really good ones are few and far between!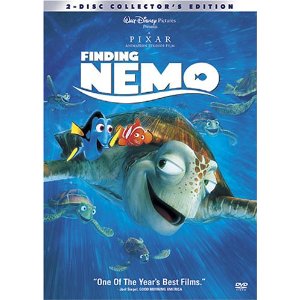 My favorite, however, is Finding Nemo. When Bradford and I watch this with the kids, we're drawn in. We laugh together at the memory-challenged Dory, we cuddle together during the suspenseful scenes, and we cheer together when Nemo and his father Marlin are reunited. As children, my kids are entertained, and as adults, we are too. What's more important to me, though, as a parent, is that I see several lessons being taught throughout the movie–lessons I really want my kids to learn, and lessons I need to be reminded of myself.
Perseverance: Nobody gives up in this movie.
Friendships: When people work together, they accomplish much more than when one person tries to go it alone.
Unconditional love:I want my children to understand that they are valuable–priceless–to their father and me. Marlin went to great lengths to find his son, enduring challenges with courage and determination because of his great love for Nemo. (There are great nuggets of faith within that concept as well.)
Redbox is celebrating summer family time with a great line up of family-friendly titles, awesome savings and two chances to win $10,000 as part of the Redbox Summer of Fun & Games Sweepstakes.*
4 Easy Ways to Enter:
1. Enter your email address at www.redbox.com/summer
2. Rent a movie or game at a redbox kiosk (and provide a valid email address at checkout)
3. Reserve a rental online at redbox.com
4. Text 'SUMMER' to 727272
This is a sponsored conversation written by me on behalf of Redbox. The opinions and text are all mine.
*Each item rented earns one entry, regardless of how long it is rented, up to three entries per day. Limit 3 entries per day, regardless of entry method. The sweepstakes begins May 27, 2011 at 12:00 a.m. CT and ends on August 1, 2011 at 11:59 p.m. CT. No purchase necessary. See official rules at www.redbox.com/summer.