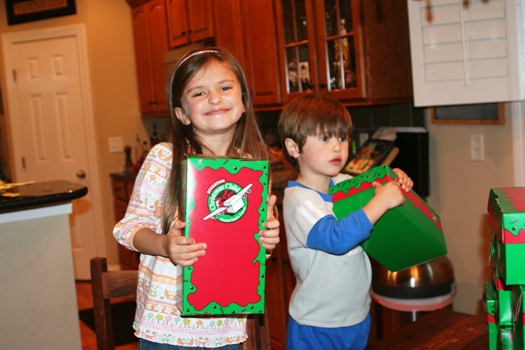 Lots of people are asking me, "Where do I take my Operation Christmas Child shoebox?" and I want you to know, I love that question because it means that you have filled a shoebox. Thank you to everyone who is participating this year.
You'll need to take your shoeboxes to an Operation Christmas Child drop off location, and  there are a couple of ways to do that.
Call Samaritan's Purse
You can call Samaritan's Purse at this toll-free number: 1-800-353-5949. Have your zip code ready because–and I know this sounds crazy–a real person will answer your call! Once you give the operator your zip code, they will help you find the nearest drop off location.
What is Operation Christmas child? Learn about this powerful ministry.
Visit the Operation Christmas Child Website
Visit the Operation Christmas Child website and you'll be asked to type in your address. You can search for the drop off location closest to you HERE. They need plenty of help at these drop off sites, if you are interested in volunteering at Christmas.
Mail Your Shoebox to Samaritan's Purse
If there is not a drop off location nearby, you can mail your shoebox to Samaritan's Purse at this address:
Operation Christmas Child
Samaritan's Purse
P.O. Box 3000
801 Bamboo Road
Boone, NC 28607
Find 101 ideas for filling your shoebox for Operation Christmas Child on Faithful Provisions!
Learn more about Samaritan's Purse and the ministry of Operation Christmas Child HERE.