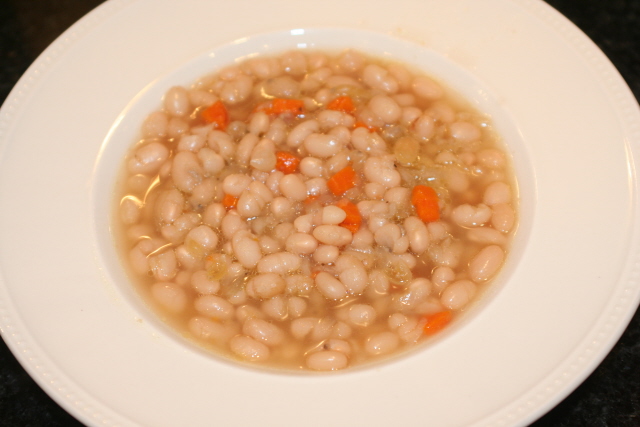 I made this out of my search for good recipes using navy beans.  I don't cook a lot of navy beans, but after reading the book The Full Plate Diet, which is all about upping your fiber intake, I wanted to add more to our diet.  Navy beans were one of the top ranked beans with over 9.6g of fiber per 1/2 cup!  The average person should consume about 30-40g of fiber per day, so this really helps out in your daily percentage.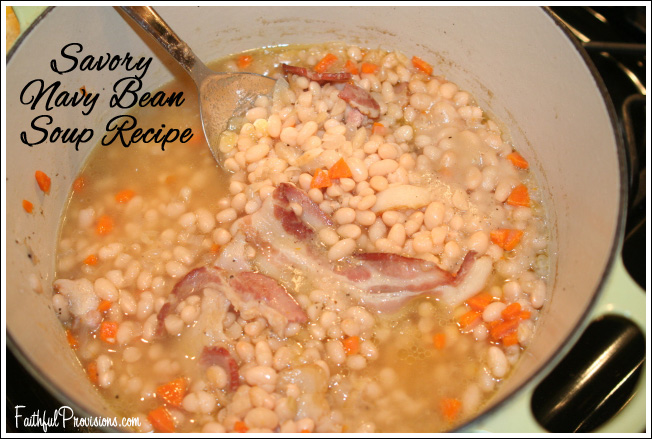 This is a version of what my mom used to make growing up, I used what I had on hand.  I really love this with Chow-Chow (a spicy pickled relish), but didn't have any.  I served it with corn and jalapeno muffins.
Anyone have any great recipes that call for navy beans? I would love some extra recipes!
Cooking 101: Savory Navy Bean Soup
Ingredients
1 lb dried, uncooked beans (navy, cannellini or other white bean)
8-10 cups water
1-2 carrots, diced
1 small onion, diced
2-3 slices uncooked bacon
salt & pepper, to taste
Instructions
Place beans in a large stockpot and cover with water overnight for 6-8 hours.
In the morning, rinse beans well and pour out soaking water.
Fill stockpot with all the ingredients, bring to a rapid boil, then turn down to medium low heat and let it simmer for 1.5 – 2 hours. (If the liquid evaporates, just fill with more to cover beans.)
*Tip: When I freeze the leftovers, I pull out the bacon fat and leave the cooked bacon pieces for flavor.
Slow Cooker Method:
Instead of putting into a stockpot, place all ingredients into a slow cooker and cook on low for about 6 hours.  You may need to adjust depending on how high your cooker cooks.