I crave White Chicken Chili on a very cold winter day, and yesterday was one of those days. This is a great alternative to a Texas Style Chili. It is a little lighter and has a bit of a Mexican flare to it.
*Scroll down to use print recipe feature and add to your Recipe Box.
I think my favorite part of chili is all the different toppings and add-ins you can incorporate.  Some of my favorite are:
shredded cheese
salsa
sour cream
jalapenos
cilantro
avocados
Texas Pete Hot Sauce (yum!)
green chilies
Rotel tomatoes
corn or tortilla chips
corn bread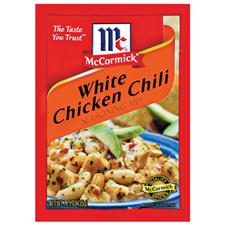 As you can see, there are many ways to make this dish your own. In fact, I am giving you two versions below.  One is using McCormick's White Chicken Chili seasoning packet, the other is using your own herbs and seasonings. (The one I make is determined by what I have on hand.)
In the picture above, I used diced chicken breasts because that is what I had, but my preference is shredded rotisserie chicken.  This is a great meal to make with leftovers from my Roast Sticky Chicken.
White Chicken Chili

Ingredients

Chili Recipe

1 lb shredded or diced cooked chicken
1-2 cans white beans (northern or cannellini)
1 can chicken broth
1 tablespoon olive oil
1 onion, diced
2 garlic cloves, minced
1 can green chilies (optional)
1 can diced tomatoes (or Rotel for a little kick!)
McCormick's White Chicken Chili Spice Packet

Make Your Own Chili Spice

1 teaspoon dried oregano
2 teaspoons cumin
1 tablepoon chili powder
½ teaspoon salt (sea salt if you have it)
1 teaspoon white pepper (optional)
½ teaspoon cayenne (optional if you want a kick)

Instructions

Oven Top Version

Cook onions and garlic in olive oil in a large stock pot until soft, about 3 minutes.
Add all remaining ingredients and bring to a boil.
Once boiling, turn down to simmer on low for 1 hour.

Slow Cooker Version

Add all ingredients into a crock pot and simmer on low for 6-8 hours.
Other Recipes You Might Like:
Recipe developed by Kelly Hancock ©2010 Faithful Provisions. For personal use only. May not be reproduced, reprinted or distributed for capital gain without prior permission from Kelly Hancock.