Waffles are one of my favorite make-ahead freezer breakfasts for my kiddos because they heat up so well.  Plus, I can pack lots of nutrients in them and they never know! I double or triple this recipe for Kitchen Prep Days.Cool them and then store in a freezer bag.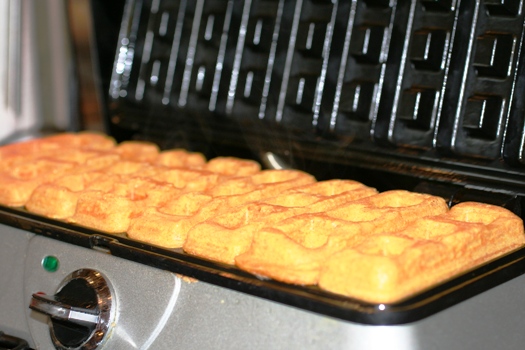 I make this using fresh milled grain, and to increase the nutritional value you can  substitute half of the oil or butter  for pureed vegetables or fruits.  Below are some of my favorite variations to add a little something special! Leave me your creative ideas in the comments.
sweet potatoes
pumpkin
chocolate chips (we like mini's)
applesauce
bananas
cinnamon and/or nutmeg
peanut butter
Healthy Tip:  To make this a little healthier, I substitute the pancake syrup with 100% Grade B Maple Syrup or warm honey.

Whole Wheat Waffles
Ingredients
2 cups whole wheat flour
2 tablespoons sugar (turbinado, sucanat or honey)
1 tablespoon baking powder
1 egg
1½ cup milk (you can use half milk, half water if you are doubling or tripling)
¾ cup oil or butter, melted
½ teaspoon vanilla (optional)
Instructions
Mix all wet ingredients in one bowl, mix all dry ingredients in another bowl. Combine both just until mixed.
Pour into heated waffle iron.
Tip:  If the batter is thick, add water until it is runny enough to pour into waffle iron.
Recipe developed by Kelly Hancock ©2010 Faithful Provisions. For personal use only. May not be reproduced, reprinted or distributed for capital gain without prior permission from Kelly Hancock.